There are two types of projector users, some users use a dedicated space for projectors and others casually operate projectors. LG is improving the category of projector for those users who casually use projectors. Today we are here with LG HU810PW Review which comes with the laser technology. LG HU810PW has two lasers and no one can argue that lasers are the best technology in projectors are they give best colors and sharp images. In addition to this, LG HU810PW has a 4k DLP chip which makes it one of the best projector in its category in an affordable price. Read the complete article below for complete LG HU810PW Review.
LG HU810PW Review:
LG HU810PW is a 4K DLP Laser projector. It has two lasers and produce a lively picture with sharp edges. One of its drawback is that it has a poor contrast ratio due to the laser technology it uses. But when it comes to the image sharpness and resolution it provides a 4K resolution. LG HU810PW has great connectivity options and numerous other attracting specifications. Some of these specifications observed during LG HU810PW Review are mentioned below:
LG HU810PW Review
Specifications
Brand: LG
Model: HU810PW
Resolution: 3840x2160p
Brightness: 2,700 Lumens
Screen Size: 40′-300′
Technology: Laser, 4K DLP
Why Choose LG HU810PW For Home Theatre?
There are a number of different factors which attract the users to buy LG HU810PW for their daily use. Some of these features are explained in detail below:
1. Design:
LG HU810PW is a premium built sleek finish projector which can be placed in the office or living room due to its clean design. It looks like a big white box with a grey base and some strokes of black color in it. One of the major advantage of using a white projector is that it blends with the color of ceiling making it more premium. It is a medium sized projector which is 5.7 inches long and 13.3 inches wide. The front of projector is plain with just lenses and manual sliders for focus and zoom.
An additional adjustment of lens shift is provided with knob on the right side of the projector which aids in the movement of projector freely. All the major controls are present on the back of projector which includes power button, a dedicated joystick to navigate through the setting options, and the input ports.
2. Input Options:
LG HU810PW provides various connectivity options which include three HDMI ports at the back so there are no problems with users who love to do live streaming. In addition to this, There are two USB ports, one 3.5mm headphone jack, an ethernet ports and a power input.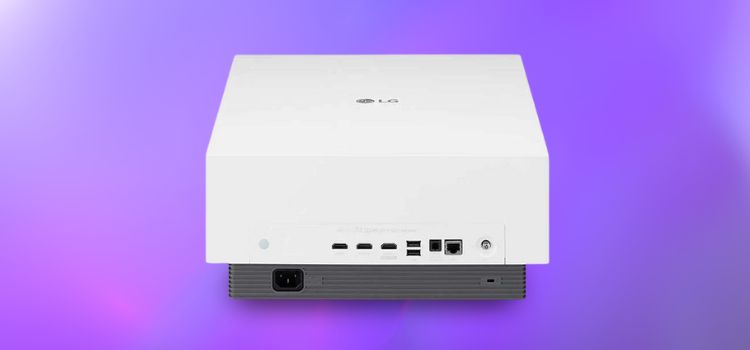 3. Image Quality:
It is clear that if you are buying LG HU810PW then you are spending a huge sum of money on a projector so you are not going to compromise in its major feature which is image quality. So, LG HU810PW comes with 4K DLP technology which provides one of the best resolution available in the projectors. It provides a crystal clear image.
In addition to this, LG HU810PW has a two laser technology instead of using lamps. One laser is red and the other is blue. Bothe of these laser combine to make an absolutely fantastic image. The colors of the image are vibrant and they are extremely clear form center to corner. Moreover, the lasers are more long lasting as compared to lamps which start to fade with time. But there is a drawback of using laser projector that they have a poor contrast ratio. But if you are looking for a projector which has the best resolution and image quality then LG HU810PW is among them along with Xgimi Horizon Pro.
4. Audio Quality:
If you are spending a huge sum of money you would expect your projector to have all the pro features which are best among other projectors. So when it is about the audio or speaker quality of LG HU810PW then we might say that they are mid average. Moreover, they are significantly loud for their in-built speakers as compared to their competitors like Epson EF-100. But the let down about the audio quality is that they are loud but they lack base and clarity so if you are considering using this projector as a home theatre or daily driver than you may consider spending some more money for external speakers.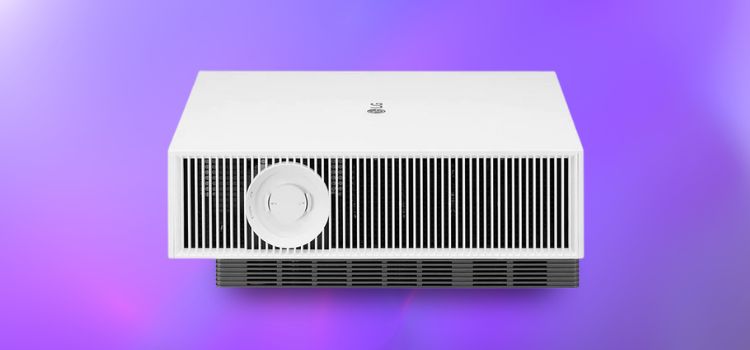 5. Additional features:
While LG HU810PW review we observed some additional features which attract the users some of them are mentioned below:
LG HU810PW review explains that it provides all sorts of connectivity which includes all ports like HDMI and LAN but is also includes Wi-Fi and Bluetooth so that the user can connect any device wirelessly. Moreover, it provides streaming options and options to connect fire tv stick which is used to convert this projector to Tv.
Pros And Cons:
Some of the pros and cons observed in LG HU810PW review are mentioned below:
Pros
Fantastic Colors
Laser Technology
4K resolution
Wireless Connectivity
Good Image Quality
Cons
Expensive Projector
Poor Contrast Ratio
Long Throw Distance
Conclusion:
There are a lot of laser projectors in the market. But LG HU810PW comes with a 4k DLP technology which is not common in other projectors. LG HU810PW review explains all the highlighting features about the projector. It is an absolutely amazing projector which comes with numerous features and a hefty price. So, if you are looking for a projector and consider buying LG HU810PW. Then you must need to ensure your requirements.
If your are looking a 4K projector for home theatre then it is the best choice. But if you are looking a projector for gaming then you might consider other options such as LG PF50KA. I hope this LG HU810PW review provides you a complete guide about this projector. Good Luck!