Optoma is a very popular brand name all over the globe when it comes to projectors. Undoubtedly, their projectors stand out due to their futuristic designs, exceptional features, and seamless usage in various settings like homes, offices, gaming, or outdoor adventures. While all Optoma projector models are impressive, today we are here to present a comprehensive list and review of the top 7 best Optoma projectors.
Optoma projectors are very good in delivering large-sized images with vibrant colors while maintaining remarkable sharpness and resolution. Each projector possesses its unique qualities, making them suitable for specific purposes. Whether you seek a complete viewing experience or a reliable choice with extensive features, Optoma offers a wide range of options to meet your needs. Optoma projectors comes in all sorts of feature ranges and budgets, they are available in low budgets like best projectors under 300. Explore the best Optoma projectors for an exceptional projection experience.
Top 7 Best Epson Projectors
Optoma has built an outstanding reputation for manufacturing a diverse range of projectors that cater to various needs. Whether it's for professional use, personal enjoyment, gaming, home theater, or portability, Optoma has a solution for you. Every Optoma projector, regardless of the category, is meticulously designed to deliver exceptional performance.
Achieving this level of excellence is made possible through several key features. Optoma projectors boast sharp image quality, impressive color contrast ratios, deep black levels, crystal-clear sound, all at affordable prices.
To determine the top 7 Optoma projectors, we conducted thorough testing, analysis, and comprehensive reviews from various perspectives. But before we delve into the detailed reviews, let's take a moment to explore our carefully curated list of the best Optoma projectors.
Image
Product
Detail
Price

Optoma CinemaX P2

Laser Technology
3840 x 2160
Great Sound

Price

Optoma UHD38

3840 x 2160p Resolution
4000 Lumens
Digital Keystone Correction

Price

Optoma GT1080HDR

1920 x 1080p Resolution
Short Throw
Gaming Projector

Price

Optoma HD146X

1920 x 1080p
3D Sound
Gaming Projector

Price

Optoma HD28HDR

1920 x 1080p
8.4ms Latency
120Hz Display

Price

Optoma W400LVe

Digital Keystone Correction
1280 x 800p Resolution

Price

Optoma H190X

3900 Lumens
1280 x 720p Resolution

Price
Criteria For Best All Purpose Optoma Projectors:
Reviewing and choosing the best Optoma projectors can be a challenging task due to the various aspects that need to be evaluated. With a multitude of projectors available, each boasting numerous key features, it can be overwhelming to navigate through the extensive information. To simplify the process of reviewing and selecting the optimal Optoma projectors from a vast selection, we have compiled a set of generalized criteria. These criteria will assist you in assessing crucial features necessary for the smooth operation and functionality of any projector.
By utilizing this criteria, not only will you be able to evaluate projectors effectively, but you will also be able to select the projector that best aligns with your personal or professional requirements when purchasing from the market. Below, we have listed several aspects that should be considered, accompanied by comprehensive descriptions to ensure clear understanding.
1. Display Characteristics
Visual Quality: Optoma projectors are renowned for their superior visual quality, providing a crisp, vibrant image even under less than ideal lighting conditions. The technology employed by Optoma ensures rich, lifelike colors and deep, pure blacks, enhancing the viewing experience whether it's for a movie night or a corporate presentation.
Throw Distance: Throw distance is another area where Optoma projectors excel. They offer both short-throw and long-throw options to accommodate different room sizes and viewing preferences. The ability to project large, clear images from a short distance makes these projectors versatile and suitable for various settings, from compact living rooms to spacious auditoriums.
Lumens: In terms of lumens, Optoma projectors shine brightly, literally. They offer high lumens ratings which translate into exceptionally bright and clear images. This makes these projectors suitable for various environments, from dark home theaters to well-lit conference rooms, ensuring the content is always clearly visible.
2. Hardware and System Features
In addition to the above mentioned prominent features, Optoma projectors offer a range of other impressive functionalities that contribute to an exceptional overall experience. These include advanced software features tailored to meet the specific needs of gamers, ensuring smooth gameplay without any lags or glitches. For gamers, it is crucial to have a projector that can handle demanding graphics and deliver an immersive gaming experience.
Moreover, Optoma projectors are equipped with a highly efficient cooling system that prevents overheating issues and ensures optimal performance. This is essential for all users, as it guarantees that the projector operates at its best for extended periods, without the risk of developing burn spots on the screen or experiencing malfunctions due to inadequate cooling.
When considering Optoma projectors, you can rest assured knowing that they not only excel in terms of their obvious features, but also in terms of the comprehensive cooling system and software capabilities that elevate your projection experience to new heights. Whether you are a gamer seeking seamless gameplay or a general user looking for reliable performance, Optoma projectors are designed to meet and exceed your expectations.
3. Battery
One of the key factors to consider when evaluating the best projectors from Optoma is their battery life. This aspect is dependent on your specific needs and usage requirements. For gamers, a projector with a robust battery life is essential to accommodate extended screen time. So, if you are searching for a good outdoor camping projector then a long battery timing is important.
On the other hand of you are buying a projector for office or home theatre then battery timing is not the first priority because in such places the power supplies are regularly available. Moreover, it is always advised that only buy good battery timing projector so the content is viewed uninterrupted.
4. Sound Quality
When we talk about sound quality, Optoma projectors are always on the top of the list. They come equipped with built-in speakers providing crystal-clear, high-quality audio, enhancing the overall multimedia experience. The sound is sharp, with excellent clarity and volume, reducing the need for external speakers for personal viewing or in smaller spaces. For larger venues or home theatres, the projectors can also easily be hooked up to external sound systems. In essence, the sound quality of Optoma projectors complements their superior visual performance, providing the users with a holistic, immersive viewing encounters.
Detailed Review Of Top 7 Best Optoma Projector
1. Optoma CinemaX P2
The Optoma CinemaX P2 projector offers an incredible cinematic experience right in the comfort of your own home.
Display: The Optoma CinemaX P2 is a head-turner when it comes to display and image quality. Boasting an ultra-short throw laser projection, it delivers an impressive 4K UHD resolution, ensuring crystal-clear visuals. Its 3,000 lumens light source guarantees bright and vibrant images even in well-lit rooms. Furthermore, the projector's color accuracy is commendable due to its six-segment color wheel. The CinemaX P2 also features HDR10 compatibility, offering remarkable color depth and contrast ratio. This makes the image quality comparable to high-end TVs, providing viewers with a truly immersive cinematic experience.
Sound Quality: The sound quality of the Optoma CinemaX P2 is exceptional. Equipped with a robust built-in soundbar, it delivers an audio experience that matches its top-tier visuals. The soundbar, powered by Dolby Digital 2.0, ensures crisp, clear sounds with a wide range of frequencies. Moreover, the projector's sound system provides excellent spatial feel and deep bass, contributing to a fully immersive viewing experience. Therefore, there's hardly a need for an external speaker when using the CinemaX P2.
Connectivity: The Optoma CinemaX P2 projector notably excels in the realm of connectivity and special features. The projector comes equipped with both HDMI and USB ports, affording ample options for connecting external devices such as streaming platforms, speakers, or power banks. Additionally, it seamlessly integrates with popular smart home systems like Google Assistant and Amazon Alexa, enabling voice control for ultimate convenience. Special features include frame interpolation for smooth motion, PureMotion technology to eliminate motion blur or image judder, and an ultra-short throw ratio allowing it to project large images from a short distance, making it a versatile choice for any home theater setup.
Pros
4K HDR10 Display
 RGBRGB Color Wheel
Ultra Short Throw Projector
SmartFit App Enabled
Cons
No User Manual Provided
Difficult Interface
2. Optoma UHD38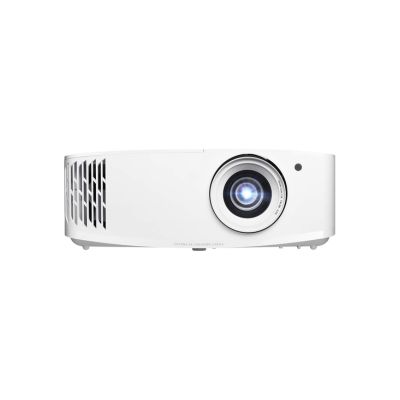 The Optoma UHD38 emerges as an impressive entry in the range of projectors, delivering a truly immersive home cinema experience and an excellent choice for movie enthusiasts and gamers alike.
Display: The Optoma UHD38 stands out with its impressive 4K UHD resolution, delivering exceptional clarity and sharpness, essential for high-definition content. Its high brightness level, powered by a 4000 lumens light source, ensures vibrant, clear images, even in rooms with ample ambient light. Furthermore, the projector boasts an HDR10 compatibility, offering remarkable color depth and contrast ratio, enhancing the overall viewing experience. Be it for gaming or movie nights, the UHD38's superior display and image quality make it a top choice for consumers.
Gaming: The Optoma UHD38 shines in the gaming world due to its ultra-fast input response time. Its remarkable 240Hz refresh rate and 4.2ms response time ensure smooth, lag-free gameplay, crucial for competitive gaming. Enhanced gaming mode optimizes the projector for lightning-fast, high-action gaming, further delivering a fluid gaming experience. Plus, Optoma's unique Game Display Mode amplifies dark scenes for better visibility, giving gamers an edge. Finally, it supports 1080p 3D content, enabling an immersive gaming journey. Overall, the Optoma UHD38 is a formidable contender for best gaming projector.
Sound: The Optoma UHD38 delivers a powerful audio performance with its built-in speakers. These speakers provide a balanced sound, ensuring clear dialogues and decent bass performance. Though they may not replace a dedicated sound system, they perform commendably for casual viewing. For an immersive audiovisual experience, especially in larger rooms or outdoor settings, supplementing the projector with an external sound system would be beneficial. Nonetheless, the Optoma UHD38's sound system contributes significantly to its overall appeal.
Pros
High 4000 Lumens
Lag Free Gaming
Crisp Images
Cons
Sometimes Gets Hot
Loud Fan Noise
3. Optoma GT1080HDR
The Optoma GT1080HDR is a high-performance projector that caters specifically to gaming enthusiasts. It delivers unparalleled visuals with a swift response time, ensuring a smooth, immersive gaming experience.
Display & Image Quality: The Optoma GT1080HDR offers superior image quality that sets it apart. Boasting a full HD 1080p resolution, it delivers crystal-clear, detailed visuals that enhance the gaming experience. With an impressive 3800 lumens of brightness, the GT1080HDR ensures vividly colored, bright images even in rooms with ambient light. Furthermore, HDR10 compatibility heightens the color depth and contrast ratio, making images appear more realistic. Its short-throw lens allows for large-scale images even in confined spaces, truly bringing games to life. Overall, the GT1080HDR's advanced display features make it an ideal choice for gamers seeking immersive visuals.
Gaming Capability: The gaming capability of the Optoma GT1080HDR is truly remarkable, offering a swift response time of 8.4ms and a refresh rate of 120Hz. This ensures fluid, lag-free gameplay, a crucial feature for competitive and high-action games. Moreover, its Enhanced Gaming Mode brings out the finer details in dark scenes, providing a competitive edge to gamers. The GT1080HDR's game-centric features, combined with its superior image prowess, make it an excellent choice for an immersive gaming experience.
Special Features: The Optoma GT1080HDR stands out as a short-throw projector, a feature that truly sets it apart. This attribute allows it to produce large-scale images even in smaller spaces, ensuring the visuals remain immersive and vividly detailed. Whether in a compact apartment or a cozy gaming den, the GT1080HDR's short-throw capability lets you establish a high-quality gaming setup with ease. It's this flexibility that makes it a highly sought-after choice among gamers.
Pros
Short Throw Projector
8.4ms Latency
120Hz display
4. Optoma HD146X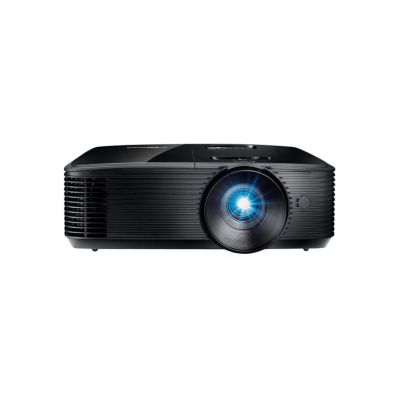 The Optoma HD146X is a high end performing projector which has one of the best performance when used as a home cinema projector. It is popular because of its exceptional sharp color, deep black colored display and HDR 1080p resolution best for Netflix and causal gamers.
Display: The Optoma HD146X stands out with its exceptional display capabilities. Having full HD 1080p resolution, it delivers sharp, detailed images that truly enhance the viewing experience. The projector's high brightness of 3600 lumens provides vibrant, luminous images, even in rooms with significant ambient light. Furthermore, the HD146X is equipped with state-of-the-art color technology that enriches the color depth and accuracy, presenting viewers with lifelike visuals.
Sound: For sound, the HD146X features a built-in 10W speaker, providing clear and impactful audio. While it may not compete with high-end sound systems, the speaker does a commendable job for casual viewing and gaming. It comes with an extraordinary audio visual experience, an external sound system may be beneficial. In conclusion, the Optoma HD146X presents a perfect balance of superior display and sound capabilities, making it a stellar choice for home cinema enthusiasts.
Pros
3600 Lumens
Good Gaming Capabilities
Great Image Quality
Cons
Average Sound For Medium Sized Room
5. Optoma HD28HDR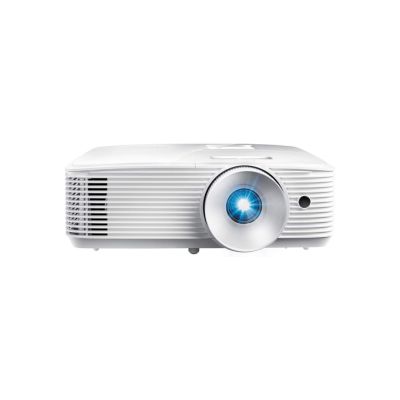 The Optoma HD28HDR is a feature-rich projector offering superior image quality, making it an ideal choice for gaming enthusiasts and home cinema lovers. Some of its exciting features are mentioned below
Display: Optoma HD28HDR is considered among best Optoma projector due to the value to money it provides. The Optoma HD28HDR showcases a stunning display quality with its full HD 1080p resolution, rendering sharp and detailed visuals. Its high brightness of 3600 lumens ensures vivid, luminous imagery even in spaces with ample ambient light. HDR10 compatibility boosts the color depth and contrast ratio, making images appear more lifelike. The projector also supports 4K input, further enhancing the video quality. Whether it's fast-paced gaming or a cinematic experience, the Optoma HD28HDR delivers a premium visual experience that truly immerses the viewer into the content.
Sound & Connectivity: The Optoma HD28HDR provides versatile connectivity options, including HDMI, USB, and VGA ports, allowing for seamless integration with various gaming and media devices. Its built-in 10W speaker delivers clear and powerful audio, enriching the overall viewing experience. While the speaker provides decent performance for casual viewing or gaming, for a more immersive audio experience, especially in larger rooms or outdoor settings, pairing the projector with an external sound system may be beneficial. Overall, the Optoma HD28HDR excels in both connectivity and sound quality, making it a top choice for gaming and home cinema enthusiasts.
Pros
16ms Latency With 120Hz Refresh Rate
HDR 10 Supported
Dynamic Black Image
6. Optoma W400LVe
The Optoma W400LVe is an advanced projector, known for its brilliant brightness, exceptional image quality, and versatile connectivity, making it ideal for diverse multimedia needs.
Visual Quality: The Optoma W400LVe offers remarkable visual quality that stands out, even among the most advanced projectors. With WXGA (1280 x 800) resolution, it delivers sharp, detailed visuals that bring content to life. The projector's impressive brightness of 4000 lumens guarantees vibrant, luminous imagery even in spaces with significant ambient light. Equipped with the latest color technology, the W400LVe enhances color depth and accuracy, resulting in lifelike images. Whether it's a detailed presentation, high-definition movie, or an intensive gaming session, the Optoma W400LVe ensures an immersive, superior visual experience.
Sound Quality & Connectivity: The Optoma W400LVe is equipped with a built-in 10W speaker, delivering clear and balanced audio, enhancing multimedia presentations, movies, or gaming experiences. Its sound quality is commendable, though an external sound system could boost the audio experience in larger spaces. The projector provides a variety of connectivity options, including HDMI, VGA, and USB ports. These allow for easy integration with multiple devices, furthering the versatility and convenience of the W400LVe for all multimedia needs.
Pros
1280 x 800p Resolution
Lightweight and Portable
4000 Lumens
7. Optoma H190X
The Optoma H190X is an innovative projector, renowned for its superb image quality, vibrant colors, and high brightness levels, making it the go-to choice for both home entertainment and business presentations.
Display: The Optoma H190X projector boasts impressive display capabilities, delivering vivid and sharp images courtesy of its high contrast ratio and exceptional brightness levels. With an HD resolution, the projector offers a clarity that makes viewing truly immersive. The projector's color technology enhances the depth and accuracy of colors, bringing lifelike images directly to your screen. Whether for home entertainment or business presentations, the Optoma H190X ensures a superior viewing experience with its outstanding image quality. It's this precision and vibrancy of visuals that sets the Optoma H190X apart from its competitors.
Sound & Connectivity: The Optoma H190X comes with an integrated 10W speaker, producing clear and decent audio for an immersive viewing experience. The in-built speaker provides enough sound for a medium sized room but if you want to enjoy high end audio then you must consider using external sources. When it comes down to connectivity the Optoma H190X presents various connectivity options including VGA, USB and HDMI ports. In addition to this it comes with Wi-Fi and Bluetooth connectivity. The main feature that supports hardcore gamers is the 3.5m headphone jack that helps the gamers to enjoy game with 3D surround sound in their headphones. Overall, the Optoma H190X doesn't compromise on sound quality and connectivity, ensuring a well-rounded multimedia experience.
Pros
1280 x 720p Resolution
Full 3D Options
Great Sound
Cons
Mid-range Image Quality
High Fan Noise
Conclusion
A detailed review of all the projector based on the common as well as the unique features of all the projectors have resulted in this entire list where each projector has been discussed in detail. Besides, pros and cons have been mentioned to make it easy for the users to have a better understanding of each projector under consideration. I hope this guide helps you to pick best Optoma projector.
FAQs
What makes Optoma projectors a top choice among consumers?
Optoma projectors stand out due to their superior visual and audio performance. They offer crystal-clear, high-quality audio with built-in speakers and sharp, bright visuals courtesy of their powerful light source. Additionally, they come with commendable connectivity compatibility, allowing you to connect various external devices, enhancing flexibility and user experience.
Are Optoma projectors suitable for outdoor use or camping trips?
The decision on whether to use Optoma projector outdoors depends upon the specific model and its portability. Moreover, battery timing is also important when considering the usage of projector outdoors.
How is the durability and lifespan of Optoma projector lamps?
Optoma projector lamps are designed to have a long lifespan. But it depends upon the model of the projector and its usage. For example some projectors offer 11,000 hours for its lamp durability and on the other hand some projectors only offer 6,000 hours. Proper care and maintenance can further extend the life of the lamp.