TV sets appear to attract a lot more attention owing to their fancy features, gorgeous appearance & big displays. But certainly you should not buy a TV set only due to these features. You have much better options which might seem unconventional, but they are the future of entertainment industry. One such futuristic device is a projector. And if you are a person who tends to enjoy binge watching series on huge screens in the comfort of your home, then you should look forward to buying a 4K projector. A list of some best budget 4K projectors is given below.
Image
Product
Detail
Price

Optoma UHD35x

4K Ultra HD
240Hz Gaming Refresh Rate
4.2ms response

Price

ViewSonic (PX748-4K)

4000 Lumens 4K UHD Resolution
4.2ms Low Latency
240Hz Refresh Rate

Price

Epson Home Cinema 3200

4K Home Theater
2900 Lumens

Price

ViewSonic (X10-4KE)

Dual Harman Kardon Speakers
Eye Protection

Price

Anker Nebula Cosmos Max 4K

Laser Technology
Great Sound

Price

Xgimi Horizon Pro

8W Harman Kardon Speakers
X-VUE 2.0 Image Engine

Price

BenQ TK700STi

Gaming Projector
240Hz And 4.16 Latency

Price

Xgimi Aura 4K

4K Laser Technology
60W Harman Kardon Speakers
Intelligent Eye Protection

Price

BenQ TK860i

3840x2160p Resolution
2D Keystone
HDR Enabled

Price

Optoma UHZ50

240Hz Gaming
16.9ms Latency
3,000 Lumens

Price
It is a common notion that the quality of any electronic device is measured by the image resolution. On the contrary, image resolution is not the only feature to be considered while selecting a projector of your choice. Other prospects like color to contrast ratio, keystone correction feature, throw distance, and brightness are also some features which should be kept under consideration.
In order to make the lengthy procedure of selecting a projector a little less complicated, we have provided a detailed buyers guide. This guide will allow you to understand your needs and then select the most appropriate projector which fulfills majority of the demands.
Top 10 Best Budget 4K Projectors:
All projectors came with different features. Some features are best while some are fairly good. Collectively all these features along with the price determine the quality of the projector. Here we will list top 10 best budget 4K projectors. These projectors will be listed after carefully analyzing the pros as well as cons of the concerned device along with the price range. So that our buyers can get idea about price they have to pay and the features that they can enjoy in return.
1. Optoma UHD35x
Optoma is a famous manufacturer of projector. Countless models of projectors given by Optoma are included in the list of best selling projectors. Apart from the above mentioned model, Optoma HD39HDR and Optoma GT1080HDR are also very well featured projectors.
Optoma UHD35x as the name indicates is an ultra high-definition projector or a 4K projector in other words. Some of its prominent features are discussed below:
True 4K: Although many projectors are classified in the category of 4K projectors but all are not true 4K. But Optoma UHD35x is a true 4K projector as it provides up to 8.3 million pixels on the screen.
Gaming Projector: Apart from being one of the best models manufactured by Optoma, it is also suitable for the purpose of professional gaming. Its 240 hertz ultra fast gaming allows the gamers to enjoy lag free experience. It has a response time of only 4.2ms for 1080p mode and 16ms response rate for 4k resolution.
HLG & HDR technology: Brightly hued images can be projected sharply by most projectors. But the challenge is to project either dark images or brighter white tones. These situation arise mostly when watching horror movies where it you have to focus a lot in order to watch a dark scene. But with this HLG and HDR technology these dark and intense white scenes can be displayed easily and you can enjoy it without focusing a lot.
Brightly Colored Pictures: It's RGBW color wheel comprising on about 8 segments provide a brightly colored picture with sharp image and intense clarity.
These features collectively make this projector worth mentioning in the list for best budget 4K projector.
Pros
High Brightness
Lower Lag Rate
Portable
Easily Manageable
Cons
High Black Level by Default
Average Optical Zoom
Average Contrast
2. ViewSonic (PX748-4K)
ViewSonic is also a projector based manufacturing brand known for manufacturing projectors of all kinds. They have a different series comprising about numerous projectors, for example a very well known portable projector is ViewSonic M2e belonging to M series. The projector under consideration is ViewSonic (PX748-4K), which belongs to P series. It has following features:
Reduced Lag Rate: Reduced lag rate means that image never lags behind the sound. This feature plays a very significant role for gamers, especially the ones that play online and also livestream during their gaming sessions. These features allow the gamers to play without lag. Therefore, this model is also termed as a gaming projector.
Best Visual Quality: This model is listed in best budget 4K projector owing to its best visual quality. Not only it has a ultra high definition resolution, but its 4000 lumen brightness brings the image to life. This is also supported by its suitable color to contrast ratio. All these features add up to give one of the best 4k projectors of all times.
Compatibility and Connectivity: It is compatible with all kinds of external devices like laptops (both android and iOS), USB, mobiles, gaming consoles, and speakers etc.
Pros
Super Color Technology
4000 Lumen Brightness
Bright Colors
Easy Set Up
Cons
No In- built Streaming
Require Spacious Rooms
3. Epson Home Cinema 3200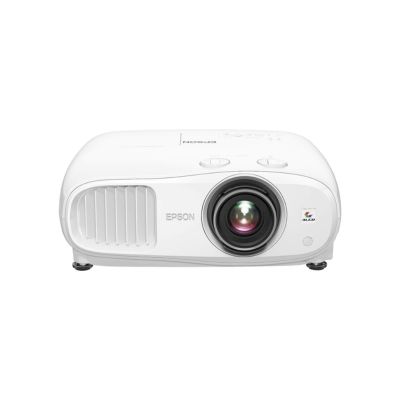 Epson is known for its compact and user friendly projectors. Not only it manufactures a variety of projectors but they are also famous in general public due to their different distinguishing features. For example Epson EF-100 is known for its Laser based light source which does not need to be replaced time and again like the lamps.
Epson Home Cinema 880 on the other hand is known for its affordable nature which comes with best collection of features. Like the above mentioned projectors, Epson Home Cinema 3200 has its own distinguished features. These are discussed below:
Precision in Image Formation: Although other projectors may give a sharp image but their image quality is nothing against the precision offered by this device. All this is possible due to multi-element glass of lenses which is designed in a way that image formed is ultra clear and sharp.
Bluetooth Compatibility: It is compatible for connecting any external devices via Bluetooth. Although connection through HDMI and USB are also possible, but connection via Bluetooth allows wireless connectivity.
Pros
3 LCD Chipped Technology
3D Support is Active
40,000:1 Contrast Ratio
2900 Lumen Brightness
Cons
Average Black Level
No Voice Control
4. ViewSonic (X10-4KE)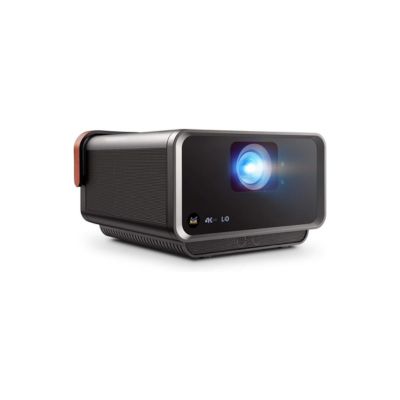 Another projector of ViewSonic that has become a part of this list for best budget 4K projectors is ViewSonic (X10-4KE). As it belongs to ViewSonic it shares some very interesting features with other projectors of the same manufacturer. Such as:
Image Quality: The image quality of this projector is up to the mark owing to its various brightness options. In a nutshell, the same projector comes in different versions with different brightness ranging from 2400 to 4000 lumens. So you can choose the projector that best suits your needs.
Acoustic Features: The most highlighted feature of this projector is its top notch Harmon Kardon in-built speakers that are loved by all users. With these speakers you will never need an external Bluetooth speaker. Isn't it wonderful?
Pros
Harmon Kardon Speaker
30,000 Hours Battery Life
200 Inches Screen Size
Cons
Not Recommended for Dark Scenes
Average Color Accuracy
5. Anker Nebula Cosmos Max 4K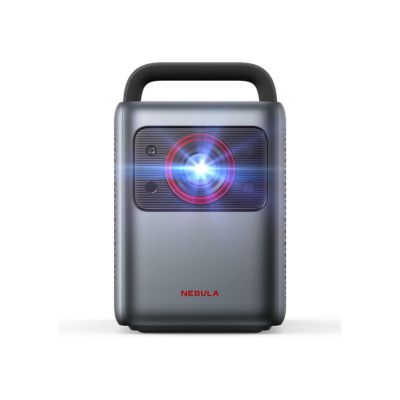 Next in the list of best budget 4k projector is Anker Nebula Cosmos Max 4K. This is a compact projector with following features:
Futuristic Appearance: Its appearance is as futuristic as its name. Its unique outer case makes it stand out from other projectors. It can easily be carried and can also be used on camping.
Image Quality: It comes with 4k Resolution with sharp images. The most highlighting feature of this projector is that it comes with laser technology. This technology makes the light source emit light strongly and as a result the image that comes out turns to be sharper as compared to other projectors available in market.
Sound Quality: It has in-built speakers and systems that can provide a 3 dimensional image. These include the combination of Dolby Digital Plus and cosmos speakers. Both work together to produce incredible sound quality.
Pros
Built In Android Tv
4k UHD Resolution
Best Sound System
Cons
Optical Zoom Unavailable
Tough User Interface
6. Xgimi Horizon Pro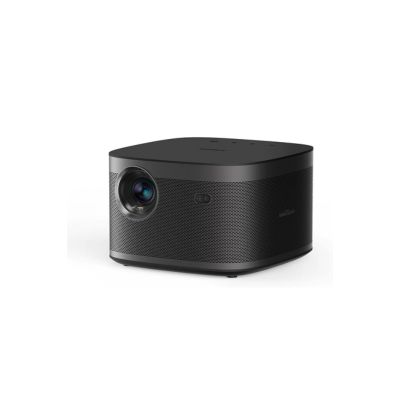 XGIMI Horizon Pro 4K comes with stunning 4k resolution. Moreover, this projector comes in a budget category as compared to the prices of other 4K projectors. Some of its features are explained following briefly.
Resolution: It come in 3840 x 2160p resolution along with 8.29 pixels to make it look sharp and vibrant. This projector work on DLP technology along with amazingly high levels of brightness up to 2200 lumens. It extremely punchy image with sharp edges mostly attracts users all over the globe. It has a single drawback about its image quality is that sometimes it gives an over warm image.
Built Quality: The first impression while looking XGIMI Horizon Pro 4K is that it has a rock solid design with round edges. Moreover, it has a sleek and seamless design. The finish and the grill shaped aura and sound vents on it provides it a great futuristic appearance. In addition to this it comes with two HDMI ports, two USB ports and a 3.5mm headphone jack which provides an option to connect it to external sound sources.
Features: It provides android support for its users to enjoy android applications and android Tv. In addition to this, it offers HDR content support. Moreover, it also provides digital Keystone correction and image sizing settings. Some of its pros and cons are mentioned below.
Pros
4K Resolution
Auto Keystone & Auto Focus
Great Quality Speakers
Futuristic Appearance
Cons
Over Warm Images Sometimes
Black Colors Are Greyish
Loud Fan Noise
7. BenQ TK700STi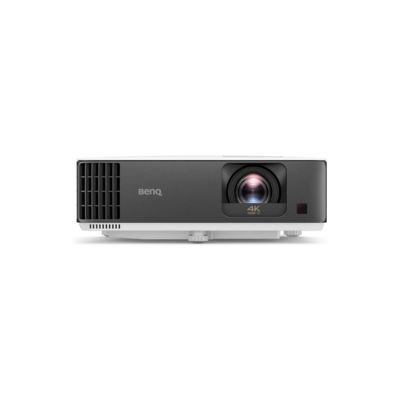 BenQ TK700STi is an ultra short throw projector which is capable of projecting large screen 4K content in a short room with great quality and sound. Some of its features are briefly mentioned below.
Display: The BenQ TK700STi comes with a 4K 3840 x 2160p resolution. It is an ultra short throw projector which is capable of providing great a large screen up to 100 inches in a small room. Moreover, on of its special feature is 240Hz display with a latency of just than 4.16ms which makes it the first option for professional gamers. Mostly professional gamers prefer a 4k display with such a low latency and vibrant colors on a large screen.
Connectivity: BenQ TK700STi comes with android Tv 9.0 which is perfectly setup in the system such that it both can be operated by a single remote rather than both. It has a single 3.5mm Headphone jack and two 2.2 HDMI ports on its back to connect it to a laptop or phone. In addition to this it has a USB-A port and a power source, it also has Wi-Fi service to enjoy the latest features and connectivity. We can say that it offers whole lot of connectivity options so a user can enjoy.
Pros
4K Resolution
Low Latency Below 4.16ms
Great Sound
Best Gaming Short Throw Projector
Cons
High Black Levels
Tough Interface To Operate
8. Xgimi Aura 4K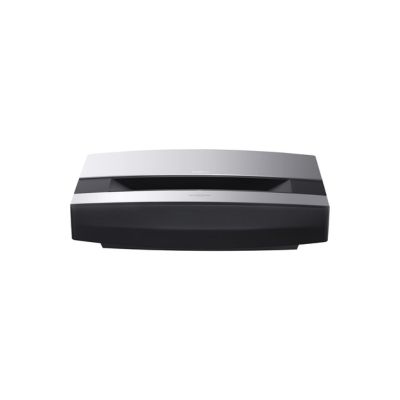 XGIMI Aura 4K is an ultra short throw premium projector which comes with some rare and high end features which are not in any present in any other device. Some of its features are mentioned briefly.
Display: The Xgimi Aura 4k comes with one of the best displays available in the market. It comes with HDR10, 3840 x 2160p ultra short throw 120′ inch display. Moreover, it has some extremely special features like it provides DCI-P3 color gamut which is the best option for hardcore gamers who like to have saturation in their gaming displays. In addition to this, it provides 80% DCI-P3 & 90% Rec.709 which is like a cherry on the top of the over stacked display features of this device.
Sound: The Sound on Xgimi Aura 4k is extremely powerful as it comes with Harmon Kardon speakers. It has two Sub-woofers in it along with two tweeters which provide a spatial dimension to the sound. It provides a clear and sharp sound which adjusts itself according to the room in which it is installed.
Other Features: It has a special feature of eye protection in which it adjusts brightness according to the surrounding environments. It helps to protect the eyes of its users. Moreover, it provides the ambient light rejection, and android Tv 10.0. It can handle all the tasks seamlessly on it. Some of its pros and cons are mentioned below.
Pros
4K UHD, HDR Supported Display
Some Rare High End Features
Eye Protection
Great Quality Speakers
Cons
Black Detailing Not Good
Miss Some Key Apps
9. BenQ TK860i
BenQ TK860i is an impressive 4k projector specifically recommended for home theatre. Some of its key features are explained briefly below.
Design & Image Quality: BenQ TK860i comes with an impressive 4kUHD 3840 x 2160p resolution. Its 8.3 million pixels makes it more clear and increases its picture quality. Its contrast ratio ranges from 50,000:1 and comes with 3300 lumens brightness. The processing of video in BenQ TK860i is great but its high brightness indoors sometimes causes the black colors to wash out. Moreover, its most impressive feature is HDR pro function which enhances its usage as a home theatre projector.
Audio: BenQ TK860i has the best sound system integrated in it which has treVolo 5-watt speakers which makes the difference as compared to other projectors in this segment. It provides dynamic and spatial audio quality sounds which enhances the users experience while using it as a home theatre projector.
Pros
HDR PRO Enabled
Great Sound
High Brightness Level
Cons
Occasionally Washed Out Black Color
Traditional Design
10. Optoma UHZ50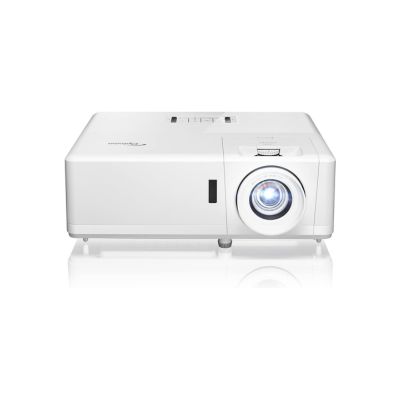 The Optoma UHZ50 is a starting level 4k Projector of the company which provides reasonable option according to its price range. Some of its features are explained below.
Picture Quality: Overall, if we say that it provides a clean and clear sharp image with excellent quality then it is not wrong. Moreover, it comes with a whooping 3000 lumens brightness which makes images look more attractive. In addition to this UHZ50 shows its compatibility and strength when it projects CGI-heavy content which flares out of the screen and provides a amazing watch experience for the users.
Sound: Optoma UHZ50 provides a sound source with it but in most cases everyone is reluctant to connect them because they are not loud enough but thankfully this projector comes with an externally sound connectivity options which helps the users to enjoy the content.
Pros
4K Resolution
Punchy Colors
Various Customizations
Cons
4K Apps Not Pre-Installed
Image Quality Suffers In Dark
Buyer's Guide: Best Budget 4K Projector
During the course of years, a number of projectors have been reviewed. Many of these projectors were 4K. But new models come every now and then, each with its own specifications, designs and features. Therefore, in order to guide you about selecting the best 4K projector which not only has the best specifications, but is also budget friendly we have picked some of the best 4K projector models that you can buy right away. These projectors are best HD quality and are affordable if your budget is a bit tight.
Apart from their budget friendly nature, these models have yet another advantage. They tend to take up little space in contrast to gigantic TV screens which are bulky and make your room appear congested. Now let us learn a bit more about the common features of projectors:
1. Acoustic Features:
Most of the projectors that are considered as the top most ones are listed considering their acoustic features. This is because sound quality tends to play a huge role in creating this whole cinematic experience with the 3 dimensional acoustics and crystal clear voice. If for instance the voice is not up to the mark, the users will never be able to indulge in the theatrical experience.
Talking about the acoustic quality we are somehow taking into account the speakers of the concerned projector. Every model of projector comes with speakers that are in-built in nature. But some users also use external speakers to enhance their experience. If the speakers that come initially are good enough, then the user does not require external feature.
But if the projector speakers are not of good quality, then external speakers are a must. Therefore, quality of speakers play a very important role while selecting the projector of your choice. These external speakers can be connected through wires or they can be wireless speakers that connect through the Bluetooth.
But all this depends upon the purpose for which you are buying the projector. If for instance you are buying a projector for presenting presentations and displaying slides in offices and in schools or other educational institutions. In this case the user can easily compromise on the acoustic sound quality. But if the purpose of buying projector is gaming or setting up a home theatre then in these case the quality should by top notch.
2. Brightness Levels:
After analyzing the top 10 best budget 4K projector you might have realized the significance of brightness level of the lamp. This brightness level of lamp may also be considered as the lumen count of any projector. This significance is enhanced to a large extent owing to the fact that the first impression of any projector is based upon the image quality of the projector. Like the previously mentioned aspect i.e., acoustics, brightness level also depends entirely upon the use of the projector and the place where it is to be mounted once bought. Let me explain you with examples.
For instance, if the user is going to use the projector in a home theatre with complete darkness, then they can compromise a bit on the projector brightness. On the contrary, if you plan to use the projector in bright rooms then you can never compromise on brightness and surely you should buy a projector with a greater lumen number.
One thing to be kept in mind is that brightness can be expressed in lux, lumen as well as ANSI. All the three terms are used to represent brightness level of the light source, which can be lamp as well as a laser. To make it easy, we can say that choose projectors above 3000 lumen if you are to mount the device in a bright room, otherwise you can buy a projector with brightness below 3000 lumens. Not only this but you an always make your projector brighter by following some simple steps.
3. Connectivity:
Certainly, connectivity of any electronic makes a lot of difference when using it for versatile purposes. If a projector is compatible to connectivity with other devices, then you can perform a number of different functions and even upgrade the current features of the concerned projector. For instance, you can connect gaming consoles to play games of all kinds.
Besides, if you want to increase the sound level beyond the level allowed by the projector, then in this case you can always connect an external speaker through cables or even by the Bluetooth signals. Moreover, you can also connect T.V stick and other such devices for watching the content of your choice. Therefore, compatibility and connectivity plays a very significant role.
4. Mobility and Portability:
Mobility in projector does not only means the ease of carrying it form one place to another, rather in projectors portability means the ease of mounting or setting up a projector. Therefore, if you want to carry your projector from one place to another, like during night outs then you should buy lightweight projectors. Such projectors are also called portable projector and mini-projectors.
Moreover, if you buy a device with keystone correction feature, it will enable you to mount the projector with fair ease. Therefore, keep this prospect in mind while choosing the projector of your choice.
5. Battery Life:
Yet another feature that is crucial to be mentioned in the buyer's guide is the battery life of any projector. It is a feature that should not be neglected in any case, but it should never be ignored when buying a portable projector. Because if you are taking projector for enjoying a movie night out in wilderness, peace and under the calm night sky, then the battery needs to be up to the mark. At the very least, the battery should last 2 to 2.5 hours without connecting any external source of electricity.
Now that we have listed all the crucial aspects to be kept in mind while buying the projectors, you can easily buy the best projector which complies with your needs even if you are just a beginner and have no knowledge about projectors.
6. Maintenance Cost:
A crucial feature to be noticed when buying a projector is the maintenance cost. In order to understand the maintenance feature of any projector you can find the life of some common parts of projector. For example you can find the life of lamps, as lamps are the most common parts to be replaced in any projector.
After finding about the life of different parts of the projector, you can find the cost of these parts. So that you have a rough idea of the expenses that you would have to bear when you buy this projector and use it. In this way you can buy the projector in which parts have a long life and are economical to buy and then replace.
7. Wi-Fi & Self Operating System:
Having a Wi-Fi and operating system of its own makes projector best for streaming your favorite content without having to connect any external device like T.V stick or USB. Therefore, all streaming applications like HBO, Netflix, Disney plus can work without connecting any external device.
Our Best Pick: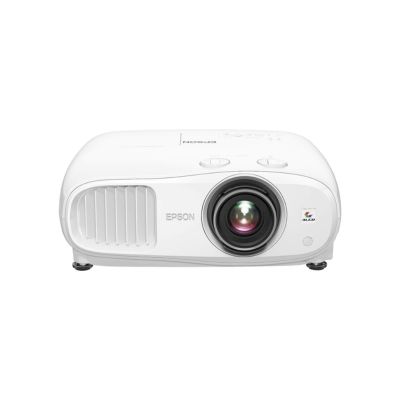 Our Best pick out of top 10 best budget 4k projector is Epson Home Cinema 3200 which comes with a 4K UHD display. Moreover, it comes in a reasonable price as compared to other projectors in this price segment. It offers whole lot of features but the main thing it offers is the durability. It means that it comes with the best solid and sturdy built and never lags out in all other features. Overall it proved to be a complete package in a budget 4k projector segment.
Conclusion:
After analyzing a number of different 4K projectors, and testing different functions we have provided a list of top 10 best budget 4k projectors. All these projectors are 4K in resolution, yet are economical in most aspects. This list has been generated after testing different models rigorously.
Each projector mentioned in this list of best budget 4K projectors is tested on a number of different aspects ranging from the technical to system related and many more. And the most important aspect kept in mind is the budget. So the users can enjoy best experience at economical price.
Moreover, our buyer's guide can help you understand your needs and also provide you with proper instructions for buying the projector which fulfills all your needs. So do not worry even if you area beginner and do not know about technical terms. You can also learn more about budget based projectors on our site
FAQs:
Are ANSI, lux and lumen all the units for brightness?
Yes! certainly all three of the above mentioned units are used for expressing the brightness level of light sources in the projectors. The higher the number the better the light source. Lux tells you about the intensity of the light on the surface, Lumen on the other hand measures the total quantity of light emitted by the light source. Lastly, ANSI is also termed as ANSI lumen.
It is the abbreviation for American National Standard Institute. Therefore, we can say that it is the total quantity of light emitted by light source. But in this case it is measured according to the American national standards, which is known to give more accurate results.
What is keystone correction?
One significant feature offered by high end projectors is the key stone correction. This feature allows the user to adjust image on to the screen. It is of two types, vertical and horizontal. Horizontal keystone correction feature adjusts image on left and right side where as vertical keystone correction adjusts image on the top and bottom end.
What is 4K projector?
1080p resolution is generally considered as the resolution of most high end projectors. This is known as HD. But when we say that a projector is 4k, it is considered as Ultra high definition often abbreviated as UHD. It is a further three dimensional modification of the initial 1080p resolution.
4k resolution tends to provide an additional sharpness and dimensionality to already clear image. For example adding a texture to an already clear image and taking it to the highest level of clarity.
Is ultra short throw significant feature of a projector?
Numerous 4K projectors have a distinguished feature which is known as ultra short throw projector. First we need to understand what is throw distance. Throw distance is the distance between the screen and projector when an image is formed on the screen.
So ultra short throw projectors are the projectors in which the necessary distance between the screen and the projector lens is decreased to a large extent. This feature allows you to use the projector to project sharp large sized image in small spaces. Therefore, you do not need a spacious room for projecting large sized images. Moreover, in these projectors images are not easily blocked even if people move around.