Optoma HD39HDR review is a whole load of useful information for projector lovers. Although, projectors of varying kinds and specifications ae available in the market. But a cinematic home theatrical view combined with gaming features is extremely rare. But this is not the case anymore. Optoma HD39HDR review shows the two features combined in a single device. Although all projectors of Optoma are known for their best functionality and easy interfaces but this device is a game changing experience. You should try it as well.
For all those who ant a clear and comprehensive review must read the Optoma HD39HDR review to get enough information required to make suitable decision. Here we will discuss each and every aspect of the concerned projector along with the advantages & disadvantages of buying this projector.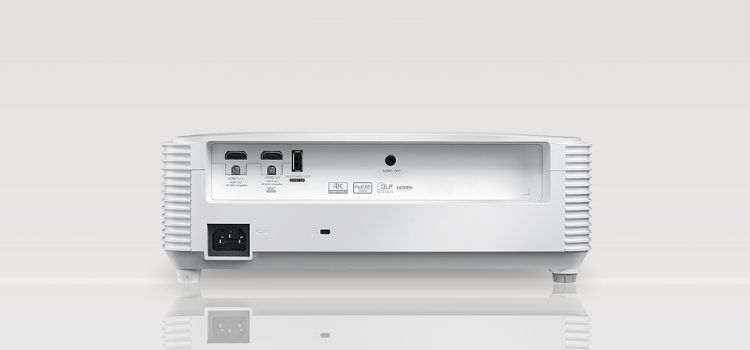 Optoma HD39HDR Review: Discussing The Basics
Optoma HD39HDR reviews that this particular model of projector is the best when it comes to watching movies in home theatres and gaming. In addition to this, the aspect which makes this projector the most wanted from the Optoma series is its reasonable price. Besides, it long lamp life, HD picture quality, High refresh rate of one hundred and twenty hertz add to the advantages of buying Optoma HD39HDR. This is just a brief over view where its general specifications are discussed. In order to get an overview of the specifications read the article below.
Optoma HD39HDR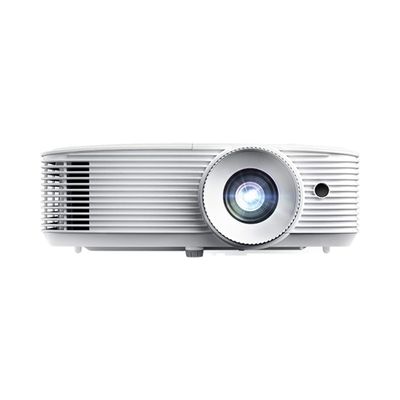 Specifications
Brand: Optoma
Model: HD39HDR
Resolution: 1080p (4K with pixel shifting)
Brightness: 4,000 Lumens
Screen Size: 30′-301′
Zoom: 1.3x Manual Zoom
Why Choose Optoma HD39HDR?
Although there are numerous reasons for buying this projector; some of which have already been mentioned. yet we will discuss every minor detail in this review so that even new customers can understand the limitations as well as benefits of buying this particular projector.
1) Picture Quality
One thing to be sure of is that if you are expecting that you will get the best image quality without an effort then you are probably wrong. Because although this projector gives a very good visual experience, it is not without a little adjustment. So, as a matter of fact it will take some time for you to completely comprehend the settings of this projector, but when you comprehend this task you will surely have one of the best gaming experience.
2) Adjustability
Now this is something to be noted. It does not requires any difficult adjustment. Besides, it requires a very short distance for throwing a good quality image. Only at a distance of 9 and a half feet it projects a very good image of high resolution. In addition to this it has a shifting lens with 1.3x. This can be used to zoom in and zoom out as and when required so that image of suitable size can be obtained.
3) Light Source
The light source of almost 4000 lumens are used in this projector. Such high lumen strength makes sure that this projector can be used in dark and light as well. Moreover, it has a battery with a lifespan of almost 15,000 hours. Surely this kind of battery life is amazing for any projector because it will diminish the need for replacing the batteries again and again.
However Optoma HD39HDR review clearly shows that there is a limitation that comes with all these benefits. It is the complex brightness settings. Now one may think that what difficulty could arise in setting the brightness. But unfortunately when you set the brightness only minimal changes are observed after a tiring effort. So you might find it tricky to made this setting in the concerned projector.
4) Mounting The Projector
According to Optoma HD39HDR review this projector weights only 7 pounds which is quite less among the projectors of other companies. Although this seems to be a benefit in portable projectors, but in this case it might serve as a disadvantage as it will reduce the durability. So you need to mount the projector with care. Because there are fewer chances for a securely mounted projector to get damaged.
Pros And Cons:
Some of the pros and cons observed while Optoma HD39HDR review are mentioned below:
Pros
Budget Projector
Good Image Quality
Extremely Bright
Supports 3D Content
Refresh rate for 120 Hz
Lowest input lag
Cons
Difficult Brightness Adjustment
Lack of Image Sharpness
Unable to display 4k content
Conclusion
After a comprehensive Optoma HD39HDR review we can conclude that the projector under consideration is a two in one option. One can use it for its home theatrical cinematic picture in homes, in offices and in various enterprises. Apart from its uses for its cinematic view, it can also be used for the purpose of professional gaming. Besides, it is available in a highly decent price in regard to the specifications that it can offer.
The only feature not available in this projector is that it is unable to display 4k picture. And surely this feature is not available in any projector that is available in this price range. Therefore, buying this projector is never a bad decision. Because surely you won't get these features in this price range for any other projector of any kind, be it gaming or home theatre one. Good Luck!!!