A decade earlier we would have never imagined that we could enjoy a cozy movie night at home or play online gaming with friends on a screen as big as 300 inches. But with the passage of time, projectors have made all of the above mentioned ideas possible. Moreover, this is not only true for rich people, rather people belonging to all financial situations can buy projectors in accordance with their affordability. Therefore, today we are here to present you some of the best projector under 500 dollars.
We completely understand the fact that selecting a suitable projector according to your needs and that in an affordable range is quite a difficult to achieve. This process becomes much more difficult when you have to listen to all the technical terms during your visit to market. If you are facing these problems then we have got you covered. We will provide you with a simple guide about significant features that you need to observe while selecting any projector. In addition to this we will also provide you with a list of 10 best projector under 500 dollars along with detailed analysis of each mentioned projector.
Image
Product
Detail
Price

BenQ WXGA

20000:1 Contrast ratio
4000 ANSI Lumen Brightness
Smart Eco Mode

Price

Anker NEBULA Capsule II

DLP Technology
720p Resolution
200 ANSI Lumen Brightness

Price

ABOOLON 1080p

1080p Resolution
1000 ANSI Lumens
Supports 4k

Price

ViewSonic PA503X

3D Blu-Ray HDMI Input
1024x768p Resolution
22000:1 Contrast Ratio

Price

ViewSonic 3800

16ms input lag
1.1 times Zooming Ability
3800 Lumen Brightness

Price

Epson EpiqVision CO-W01

3 LCD Chip Technology
3000 Lumen Brightness
378 Inches Image

Price

YABER Y31

4D Keystone Correction
One Click Brightness Control
1920 into 1080p Native Resolution

Price

Artlii Energon 2

1920 into 1080p Native Resolution
Supports 4K

Price

GooDee Video Projector

1080p Resolution
4:3 Aspect Ratio
230 Inches Image Projection

Price

Miroir M75

640 into 340p Resolution
Two Hours Battery Life
1 Watt Speaker

Price
Best Projector Under 500$:
After carefully testing and analyzing a number of different projectors we have finally listed top 10 best projector under 500 USD which can fulfill all your requirements without putting a lot pressure on your pockets. Isn't it wonderful? Certainly it is. Now let us provide you a complete review of best projector under 500.
1. BenQ WXGA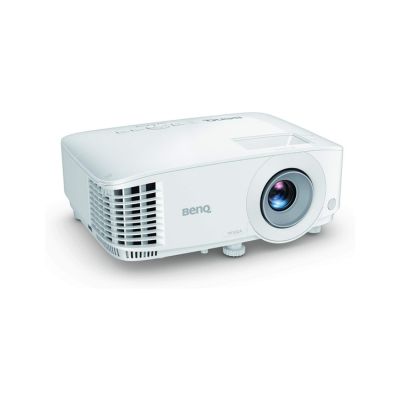 First projector in this list for best projectors under 500 dollar is BenQ WXGA. It has the following prominent features:
Visual Features: With a brightness of 4000 lumens this projector is bright enough to be used even in broad daylight. When this brightness is accompanied by the contrast ratio of 2000 to 1 the image formed is bright as well as well differentiated between dark and white regions. It comes with a resolution of 1280 into 800p which is quite reasonable for displaying the best quality image to the users.
Dual Connectivity: It is essential for a projector to allow connectivity with different kinds of devices, like Bluetooth speaker, or USB or gaming consoles. As far as connectivity of BenQ WXGA is considered it provides fastest connectivity owing to its dual HDMI feature. In this way you won't need to wait too long for connecting any external device.
Exclusive Detailing: Its review mode for data allows the projector to display each and every word and figure with sheer sharpness and extreme clarity.
Automated Mounting: Mounting projectors can be difficult and then setting them in accordance with the image formation is even more necessary. But you do not need to worry, BenQ WXGA allows automatic keystone correction.
Green Operations: As this device saves a lot of energy through the lamps. Almost 70 percent of energy is conserved which can be used afterwards.
Pros
Automatic Keystone Correction
Green Operation
4000 Lumen Brightness
Cons
60Hz Refresh Rate
Large Size
2. Anker NEBULA Capsule II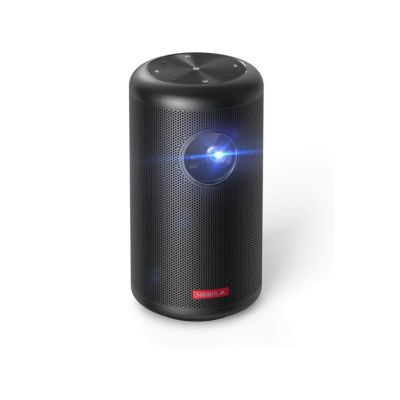 Second in the list of 10 best projector under 500 dollars is Anker NEBULA Capsule II. It is considered as one of the most demanded projector owing to its prominent features. Some of its features are mentioned below:
Brilliant Visuals: The visuals that you experience through this projector are up to the marks. With a resolution of 720p high definition and a brightness of 200 ANSI, it forms a sharp and bright image at the same time. This quality of image maintained even for a screen size of 100 inches. Therefore, Anker NEBULA Capsule II can be used in home theatres and for educational purposes.
Pocket Sized Projector: Apart from being named as an educational projector, it is also termed as a portable projector owing to its pocket size and compactness. It can be fitted in any pocket and can be taken easily from place to place without making any effort.
Unique Features: Some of the most unique features of Anker NEBULA Capsule II is its support for Netflix. Moreover, you can use it to play Android T.V or download a number of different applications which are compatible and can easily operate on this device.
Indulging Audio Quality: Auditory experience is as significant as the visual one and this fact is not ignored in this device. It comes with an 8 watt in-built speaker which provides an excellent sound quality during every use.
Pros
Lightweight
Pocket Size
Supports Netflix
Cons
Average Brightness
Average Battery Life
3. ABOOLON 1080p
ABOOLON 1080p is another projector which you can buy in less than 500 dollars. But despite its low price, it qualities are quite similar to other projectors in this list. Some of these qualities are as follows:
Resolution: ABOOLON 1080p comes with a 1080p ultrahigh definition resolution which is further supported by 1000 ANSI brightness level. Moreover, it also has a full screen technology which allows its users to experience the same sharpness level on the corners as in the center. Undoubtedly, it gives cinematic experience.
Dual Directional Bluetooth: It uses its Bluetooth connection for connecting the Airpods, wireless handsfree and external speakers. As far as the in-built speakers are considered, it has a 20 watts speakers with excellent quality. Therefore, its audio quality is one of the best features offered by this projector.
Other Features: One of the most unique feature is its 5G Wi-Fi feature which allow it to connect with other external devices. Moreover, you can utilize this 5G connection to mirror the screen of your mobile onto the screen of the projector. And to your surprise this works smoothly without any glitches. Apart from all this, it is able to support 4K as well DNS.
Connectivity: It comes with numerous ports for connecting different types of external devices. For example a port for Bluetooth and other one for other devices. This makes it highly flexible and compatible with all kinds of devices.
Pros
20 Watt Speakers
5G Wi-Fi
1000 ANSI Brightness
Efficient Connectivity
4. ViewSonic PA503X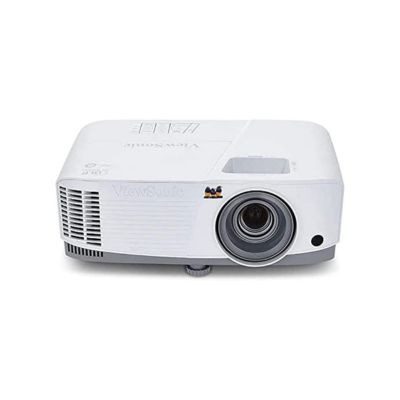 This projector is known for its versatility. It comes in three styles i.e., SVGA, XGA & WXGA. Each style has a different price, but all of them are below 500 dollars. So these are easily affordable. Let's learn more about its prominent features:
Decreased Input Latency: Large input lag tends to slow down the display process resulting in glitches during the projection process. But this device has a decreased input latency which results in an input lag of only about 16ms resulting in a smooth display. This feature not only improves the overall visual quality but also makes this projector fit for gaming process. This is because you can play online games without any lag.
Versatile Connectivity: Another feature that makes this projector suitable for use in gaming as well as in home theatres is its connectivity. It is compatible with all kinds of devices ranging from android to iOS. Moreover, it contains HDMI, VGA, as well as a mini USB port. Therefore, it can be connected with external speakers as well as gaming consoles.
Display Features: Like all other features, its display is also up to the mark. Its 3800 lumen brightness allows it to work well even in a bright room. Besides, its DLP display also contributes to its visual experience.
Pros
Lightweight
3600 Lumen
Reduced Input Lag
DLP Display
Cons
Average Speakers
No HDR support
5. ViewSonic 3800
Another projector manufactured by ViewSonic considered as best projector under 500$ is ViewSonic 3800. Like the one model mentioned above this projector also comes in three different styles. Let's discuss it features in detail:
Image Quality: It forms a reasonably sharp image with 2200 to 1 contrast ratio. Therefore you can easily watch movies with dark scenes like horror or fantasy movies. Besides, it has a 3800 lumen brightness which allows it to be functional even in a brightly lighted room. So it can be used in home theatres as well in offices for presenting slides and group reports. The display used is DLP type.
Mounting : It can be mounted without any difficulty due to its keystone correction feature which makes it easy to set up the device and ensures the formation of proper image. Moreover, it you can zoom in to about 1.1 times.
Flexibility: It has HDMI, VGA and USB port which allows it to connect with any kind of external device. Moreover, it is compatible with iOS as well as android devices. Besides, its lengthy lamp life allows it to be used for a longer duration of time.
Pros
Compatible With External Device
Lengthy Lamp Life
Ultra-high Brightness
Cons
Zoom Setting Not Available
6. Epson EpiqVision CO-W01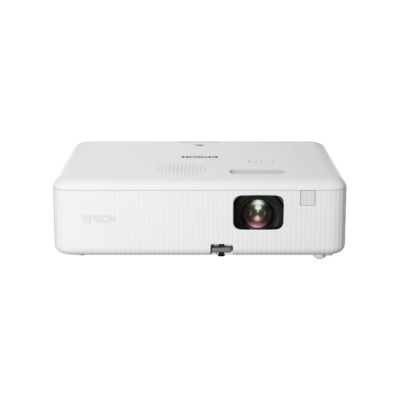 Discussion about best projectors under $500 cannot be completed without discussing Epson EpiqVision CO-W01. It is a kind of portable projector which comes with numerous unique features that are not present in other projectors falling in the same price range.
Image Quality: This projector is best known for its 300 inches life size images which provides a completely natural 3D experience to the user. Another feature that enhances the visual experience is the adaptive color correction according to scene being projected. Further it has a 3 LCD chip technology which allows it to display the most accurate color scheme possible.
Portability and Connectivity: Owing to its lightweight and sleek design it can fit in any small bag and you can carry it conveniently from one place to another without any difficulty. Therefore, you can take it during your camping and outdoor trips to enjoy a movie in the wilderness under star filled sky. It will surely be a wonderful experience for you and your family.
Digital Compatibility: It is known for its compatibility with gaming consoles, cable boxes, laptops, satellite box, streaming devices and blue ray disc player as well. Surely, you can use it in connection with any of the above mentioned electronic devices.
Best Service: One aspect which is not mostly considered while buying a projector is the service provided by manufacturers. Although this aspect is ignored, yet it plays the most significant role in determining the experience of the user.
Pros
3 LCD Chip Technology
300 Inches Image
Portable
Compatible With External Device
Cons
Single HDMI port
Optical Zoom Absent
Does not Support 3D
7. YABER Y31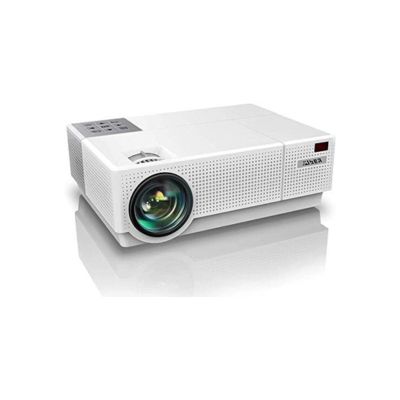 This projector works wonders. It has a number of features which can operate on a single click, thus making it very convenient as well as innovative in its functioning. Let's discuss this feature in detail.
Innovative Aspects: This is the first projector which comes with one click instant brightness feature. This feature brightness the screen at once with a single click. Moreover, it also zooms with a click without any delay. Besides, its installing is extremely easy owing to its vertical keystone correction. You can just use the remote to control the position of the projector. This works best for the projectors that are mounted on the ceiling.
Advanced Audio and Video Quality: In contrast to all projectors mentioned so far, this projector comes with a Hi-Fi audio features. It comes with in-built dual stereo system. So you do not need to connect any external speaker in order to enhance your auditory experience. Moreover, you can enjoy a screen size of from 50 to 300 inches.
Cooling System: Cooling system plays a crucial role when you have to use projector for a long duration of time. This projector has the best cooling system only due to its 3 fans which run simultaneously without any delay.
Pros
Efficient Cooling
Hi-Fi Audio Features
Single Click Brightness
Life-sized Image
8. Artlii Energon 2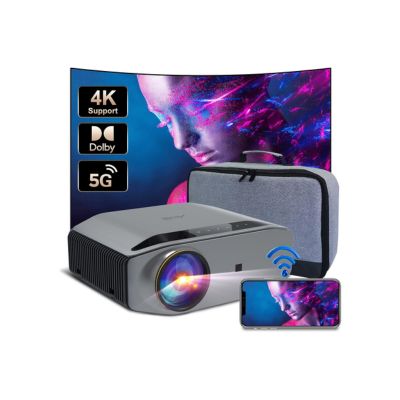 Artlii Energon 2 also termed as the home theatre projector is best for binge watching movies and series in the comfortable environment of your rooms.
Display Features: This projector comes with a 5 layered lens, with 1920 into 1080p resolution. Moreover, it has a wide range of colors ranging up to 17 millions and a brightness level of 340 ANSI. Besides, it can project an image as big as 250 inches. Its display throw distance ranges from 5 feet to 27 feet which again makes it versatile enough to be used in room of any size.
Keystone Correction: Its keystone correction features enables the users to set it up without any major difficulty. It supports 15% keystone correction. Besides, it supports 60 to 100 percent zooming options.
Unique Features: Another important feature is that this projector supports 4K content. Its fast 5G Wi-fi enables it to stream numerous series and your favorite shows without any delay. Another feature is its Bluetooth connectivity which along with its fast Wi-Fi allows the projector to stream your favorite content without glitches and delay.
Pros
Keystone Correction
5G Wi-Fi
250 Inches Image
Cons
Average Bluetooth
Bulky Design
9. GooDee Video Projector
GooDee is a video projector with black sleek compact case which becomes the highlight of your room.
Wonderful Connectivity: This device comes with 2 HDMI, 1 VGA, 2 USB, and an AV port. Therefore, it is open to connection with every kind of external device ranging from T.V sticks, to gaming consoles, external speakers, cable boxes, laptops, mobile phones both iOS as well as android.
Audio and Visual Features: It comes with the best stereo speakers and visual features such as a 16: 9/4: 3 aspect ratio, image size ranging from 44 to 230 inches, 10 feet optimal throw distance between lenses and screen, 1080p resolution, ultra brightness levels, and last but not the least a 3000 to 1 contrast ratio to provide the best possible contrast between the bright and dark regions of images.
Service Support: Moreover, it comes with a factory support of 5 years which is very crucial because you can always contact the manufacturers if any problem arises.
Pros
4: 3 Aspect Ratio
3000:1 Contrast Ratio
Numerous Ports
10 Feet Throw Distance
Cons
Average Brightness
Lacks Wi-Fi
10. Miroir M75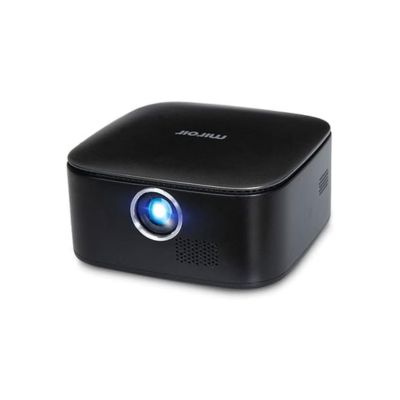 Last in the list of top 10 best projector under 500 dollars is Miroir M75. It is also known as an ultra portable projector owing to the following reasons:
Portability: This projector is very light weight. Moreover, its outer case is designed in such a way so as to be compact, sleek as well as appear modern. It blends well in the room with all the other furniture and give a futuristic style to the room or office hall. You can fit it in any small bag and carry it from place to place.
Display Feature: It comes with a DLP technology which also includes a advanced chip technology. This feature enhances the visual experience of the user in the best possible way. Besides, it lamps have a life of about 20,000 hours which is long enough to enjoy the facilities of projectors without the hassle of changing the lamps every now and then.
Battery Time: It can work for 2 hours continuously without connecting with electricity source. Therefore, you can easily watch a movie in outdoor trips without thinking about the availability of electricity and connectivity issues.
Pros
2 Hours Battery Life
20,000 Hours Battery Life
DLP Technology
Lightweight
Cons
No Keystone Correction
No Bluetooth
Buyer's Guide For Best Projector Under 500 USD:
Buying electronics is never as easy as it seems. You have to take care on a number of different things. In the case of projectors you not only need to take notice of features and price but you also need to keep in mind the purpose of buying projector. Hence we are presenting you a complete guide about the features that you need to consider while buying the projector of your choice.
1. Brightness
Brightness is the key feature to be considered while buying a projector. The level of required brightness certainly depends upon the place where the projector is going to be mounted and upon the purpose for which the projector is going to be used. If for instance, the room is completely dark then you may compromise on the brightness.
But if you plan to use the projector in bright room or for outdoor trips then you need to choose a projector with greater value of lux or lumen. Lumen and lux both are the units for measuring the brightness of any light source.
You just need to remember that for use in bright surroundings you should choose projectors with brightness above 3000 lumens. Moreover, if you have already compromised on brightness level you can make your projector appear brighter by following some simple steps.
2. Portability and Compactness
Portability is a feature which may not appear important to some users. But to others especially those who plan to use the projector outdoors during their camping trips certainly need a projector which is compact, light weight and easy to carry from one place to another. Such projectors which are easy to carry are also termed as portable projectors.
3. Resolution Level
Visual experience of a user seems to impact the complete experience of any user. Therefore, you need to select a projector with good resolution as it will determine the image quality. 1080p is the most highly recommended resolution level which is available in most cases even in projectors under 500 dollars.
4. Contrast Ratio
Resolution determines the sharpness of the image but contrast ratio helps you differentiate between the bright and the dark part. For an image of reasonable image quality you need to select a projector with contrast ratio not less than 1000:1.
5. Throw Distance
Throw distance can be defined as the distance between the screen & the projector. It is a significant feature to be kept in mind while buying a projector as it depends purely upon the room in which the projector is going to be mounted. Therefore, if your room is small then look for a short throw projector. On the contrary if your room is big enough, you can buy long throw projectors.
6. Lamp Life:
You must also check the life of light source. Lamps and lasers both are used as light source. Laser technology is more advanced but lamps work pretty well on their end. But still you need to select projector with longer lamp life if you don't want your projector lamp to blow. Otherwise you will have to change the bulb from time to time.
Although, there are numerous other factors to be considered apart from the above mentioned ones, but these features play a crucial role in determining your overall experience of using the projector. So, after an extensive research and testing we have selected a list of top 10 best projector under 500.
Best Pick: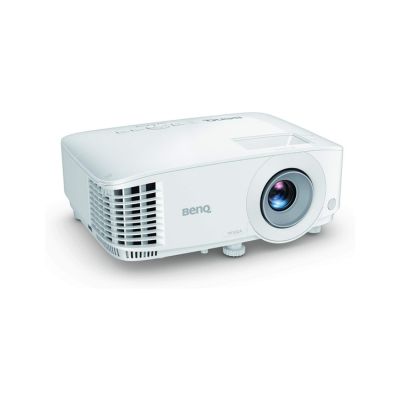 After carefully analyzing all the above projectors and knowing about their features we can finally conclude that BenQ WXGA is the best choice when it comes to choosing the best projector under 500 dollars. It provides all the facilities in the best possible price. Therefore, it is not only affordable but functional with the best display and audio features.
Conclusion:
In a nutshell we can say that buying projector which cost less than 500 dollars is the most economical method of enjoying the perks of big screen, comfortable environment and cinematic visuals. But in order to enjoy the above mentioned comforts, you need to pay attention while buying the projector.
You must not forget to consider the brightness, resolution, portability, color to contrast ratio, throw distance, & the lamp life of the concerned projector. In this way you can buy the best projector under 500 dollars. And this projector can completely change your visual as well as your auditory experience. You will feel more immersed in the content and certainly you will enjoy more.
FAQs:
Is 500 dollars enough to buy a good projector?
Although it may seems that a good projector is highly expensive, but $500 is more than enough to buy a good quality projector. A number of different projectors are available at affordable prices and quality features.
Is the sound quality of a projector under 500 dollars reliable?
Yes! certainly the audio quality of all the projectors that are mentioned in the list for best projector under 500 have reasonable audio features. They all come with in-built speakers. But still the audio settings can be improved to a great extent by connecting external speakers.
Can these projectors be used in a bright room?
Certainly all these devices can be used in brightly lighted rooms. Although the image quality will be impacted to some extent.
Can I connect USB to my projector?
Yes! USBs can be connected easily to the projectors. They come with USB port. Moreover, other devices can also be connected to these projectors, as it comes with HDMI as well as a USB port.
Can these projectors be used for gaming purposes?
Yes! all projectors can be used for gaming in homes. But if you are a professional gamer then you need to select a projector with a much longer battery time as it will allow you to play games for a long period without getting disturbed.
What is the life of a projector under 500 dollars?
Projectors last for a long time. But the first part to be damaged is mostly the lamp region. As far as the life of the projector is considered it depends largely upon the lamp life. A lamp with a life of about 12000 hours is quite reliable. Lamp life below this value is not recommended, otherwise you will had to replace it from time to time.