Epson is the largest name world wide when it comes to projectors. Certainly, this is due to the numerous features, futuristic designs and blending appearance of these projectors that make them so fit to use in all kinds of places, be it home, workplace, gaming or for travelling outdoors. Although, all the models manufactured by Epson are incredible, yet today we aim to list and review top 10 best Epson projectors.
When talking about Epson projectors you do not need to mention models for professional or personal use. This is because these projectors are fit for use in homes as well as offices. Projecting large sized images with bright hues and still maintaining the sharpness and resolution is the specialty of some of the best projectors of Epsom. But they all have a tinge of uniqueness to them and hence they can be listed for specific purposes as well. If you are looking for a complete experience then Epson is a reliable opinion with numerous options and extensive features.
Top 10 Best Epson Projectors
Epson is known to manufacture every kind of projector ranging from professional, personal, gaming, home theatre and last but not the least portable ones. But despite all the kinds, every projector manufactured is fit to be used in any of the above mentioned categories. And this is possible only due to sharp image, best color to contrast ratio, incredible levels of blackness, crystal clear sound quality and not to mention, the economical and pocket friendly prices.
In order to select the best Epson projectors, several projectors were tested, analyzed and reviewed to check each and every aspect from every possible point of view. Before discussing the detailed review, let's first check out the best Epson projector in our list of top picks.
Image
Product
Detail
Price

Epson EpiqVision Flex CO-W01

3000 lumen
1280p x 720p Resolution

Price

Epson PowerLite E20

3400 Lumens
1440p x 900p
12000 Hours Lamp Life

Price

Epson Home Cinema LS11000

Laser Light Source
3820p x 2160p Resolution
4K pro UHD

Price

Epson Home Cinema 3800

3000 Lumens
3840p x 2160p Resolution
4K 60 FPS Supported

Price

Epson Home Cinema 2350

Price

Epson Home Cinema 3200

2900 Lumens
Active 3D Support
4K Supported

Price

Epson EpiqVision Mini EF12

Laser Technology
Soundbar Quality Speakers

Price

Epson Home Cinema 1080 3-chip

2000 Lumens
2.1x Zooming ratio

Price

Epson PowerLite Home Cinema 8350

4:3 & 16:9 video compatibility
4000 Hours Quiet Fan

Price

Epson Home Cinema 880

1920p x 1080p
No visible damage seen from 12'inch distance

Price
Criteria For Best All Purpose Epson Projectors:
Reviewing and selecting the best projector is not an easy task because their are a number of aspects that need to be tested. And when exposed to such a large number of projectors with hundreds of key features then you get flooded with knowledge. Therefore, in order to ease the process of reviewing and selecting the best Epson projectors out of a long list, we have presented a generalized criteria which will help you judge some key features which are extremely crucial for normal working and functioning of any projector.
Not only this criteria will help you test projectors, but it will also allow you to pick up the best projector which comply with your needs and demands if and when you happen to visit market for buying a projector for your personal or professional use. Some of such aspects to be judged are listed below, each with a comprehensive description for proper understanding.
1. Display Features
Visual Quality: A major part of one's experience is the visual quality of the projected images. Therefore, it is considered as one of the most important aspect to be considered while reviewing any projector. When choosing a projector you need to check the visual functions according to your demands. For instance if you are buying projector for setting up a home theatre then image quality plays a very important role. You need to select a projector which can form image of maximum size and yet maintain the picture quality, otherwise you might not be able to enjoy to the fullest.
Throw Distance: Another feature to be considered is the throw distance of the projector. Thrown distance is the distance between the screen and the projector from where it can project image of maximum size. If your room is small you must choose a projector with small throw distance and vise versa. Same goes for gamers. But image quality can be compromised a bit in the case of workplace projectors.
Lumens: Besides, you need to know about the lumens and lamp features. This will help you to decide that can the selected projector work properly in daylight or is it most suitable for only pitch black surrounding. Apart from these, some other visual features to be kept in mind are color to contrast ratio and resolution.
2. Battery time:
One of the most significant feature which should always be considered while listing best projectors of Epson is he battery time. This feature also depends upon your use. If you are a gamer your screen time requires quite a strong battery life. Similarly if you want to buy a portable projector which you can use on your outdoor camping and tours then you need a long battery time.
But if you are buying projector for office use and homes where you have constant power supply for most cases, then you can buy a projector with an average battery life. But since it can impact the quality of your experience to such a great extent, it is considered appropriate to always buy a projector with the best possible battery life so that you are never disturbed due to power outage or low battery life.
3. Hardware and system features:
Apart from the most obvious features mentioned above, their are certain features that do not come to your mind when you first see or buy a projector, but in a longer run play very significant role in determining your over all experience are the cooling system and the software features.
Software features are most significant features to be checked by gamers as they would not want their games to lag due to glitches and slow system. And as far as the cooling system is considered, it is significant for all kind of users. Because certainly no one would want their projectors to develop burn spots on screens due to overheating or non-functional cooling system.
4. Acoustic Prospects:
Similar to visual features, auditory features also impact your experience to a great extent. So you need to check the sound levels achieved. Besides, the compatibility for external devices like Bluetooth features, should also be checked.
Now that we have learned about all the key prospects to be considered while reviewing a projector, let's move on to our list of top 10 best Epson projectors.
Best Epson Projectors – A Detailed Review:
1. Epson EpiqVision Flex CO-W01
First in our top pick list for Epson best projector is Epson EpiqVision Flex CO-W01. With its sleek outer case and light weight it can also be listed as a portable projector which can be easily packed in a backpack and taken on long trips without any hassle. But to our surprise it can also be considered as a best choice for gamers. Now let's review this device on the aforementioned criteria:
Display: With a massive 300 inch screen size, this projector can compete with any 75 inches flat panel in providing an immersing visual experience to its users. This experience is also enhanced by the 3000 lumen bright light source. This light source ensures best quality image projection in all kinds of lighting.
Moreover, image quality is further enhanced by the 3 LCD chip which allows the projector to project 100 percent RGB signals resulting in brightly hued image without any rainbow issue. Another advantageous display feature is the automatic color adaptation in accordance with the scene. Therefore, we can say that it projects an ultra bright image with bright colors and high resolution of 1280p into 800p.
Auditory features: As far as speakers are concerned, its built in speakers are good enough to provide a sharp audio. These speakers are good enough for presenting business presentations, entertainment purpose as well as for the gaming purposes.
Connectivity Compatibility: Now coming towards its compatibility with external devices. It contains HDMI and USB ports for all such purposes. You can connect any streaming device, like Amazon Fire Tv, Apple Tv, Roku and stream the content according to your choice.
Pros
Compatible With External Devices
3 LCD Chip Technology
300 Inch Screen-size
2. Epson PowerLite E20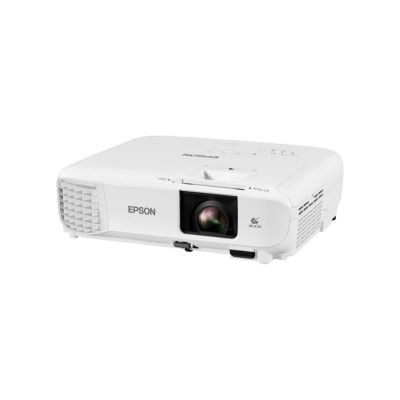 Epson PowerLite E20 is listed as the second best Epson projector out of all the projectors manufactured by Epson. All the reasons that justify the listing of this device in the list for top 10 best Epson projector are listed as follows:
Display: With a maximum resolution of 1440 to 900 to minimum resolution of 1024 to 768p and 3 LCD feature, it projects a good quality image owing to its 3400 lumen light source. This is further aided by the XGA resolution and best color brightness. Thus we can say that this projector gives a very good image quality. Moreover, it has a lamp life of almost 12, 000 hours which means that you would not need to replace the lamp from time to time which will save you from all the hassle.
Speakers: Speakers of 5 watt are present in this projector which result in reasonable sound quality without connecting any external Bluetooth speaker. But you can always connect external speakers via Bluetooth or by using HDMI port for enhancing your experience according to your wish.
Connectivity: Like all other projectors it consists of HDMI and USB port via which you can connect all sorts of external devices, such as streaming apps, Bluetooth, USB, power bank, speakers etc. Moreover, this projector is completely compatible with all these external devices.
Pros
XGA Resolution
12,000 Hours Lamp Life
3400 Lumen Light Source
Cons
Average In-built Speakers
3. Epson Home Cinema LS11000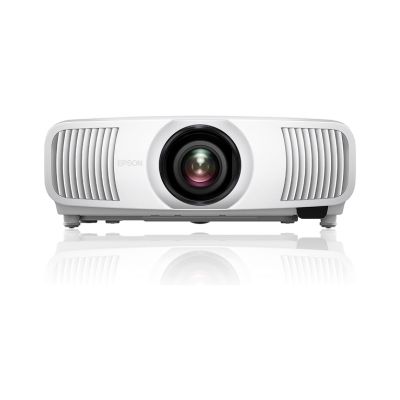 Now listing the third best projector by Epson, Epson Home Cinema LS11000 comes to our minds. Its significant features are highlighted below:
Image quality: This projector is worth mentioning in the list for top 10 best Epson projectors owing to its versatile display features. For instance, it contains motorized lens. Moreover, its shift glass plate feature enhances the precision during image formation process resulting in an extremely sharp image which is about 8.29 million pixels in picture terminology. In addition it has a LASER light source instead of lamps and 3 LCD technology.
Besides, the 3820 into 2160 pixels resolution is another image enhancing feature. Moreover, its picture processor is responsible for rapid processing of the videos and images for handling frame interpolation, color to contrast ratio and proper image resolution. Another worth mentioning feature is its 4K PRO UHD feature that further enhances the projection quality to a great extent.
Software features: Its refresh rate is almost 120 hertz which makes it extremely useful for gamers. Therefore, this projector is best for gamers and also for home theatre as its name indicates in the best possible way. Besides, it is external device compatible due to its ethernet, HDMI and USB port which makes it more useful.
Pros
120 Hz Refresh Rate
4K PRO UHD
LASER As Light Source
4. Epson Home Cinema 3800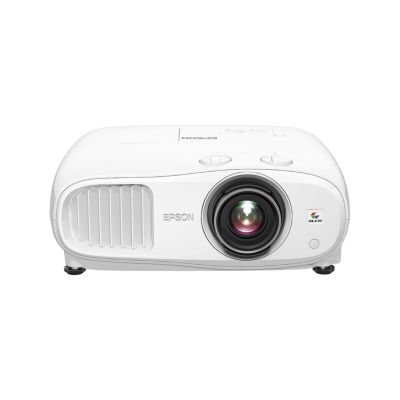 As the name indicates it is a projector with incredible display quality and hence it can be used for all purposes, but it is best for used for assembling home theatres and also by the gamers. Further prominent features are discussed below:
Display characteristics: This projector is named as cinema 3800 owing to its awesome image quality. Its resolution is 3840 to 2160 pixels and it also has 3 LCD chip feature along with the 4K processor which improves the projection quality. One unique feature of Epson Home Cinema 3800 is its 10-bit HDR which allows reception of complete date from source and its reproduction for quality visualization.
Moreover, it has 3000 lumen light source aided by 12-bit video processor and an 18 Gbps full HDMI support that allows it to project 4k content with 60 Hertz refresh rate for smooth running.
Other features: Similar to other projectors it has inbuilt speakers and connectivity compatibility to external devices via the HDMI, USB ports or even through Bluetooth if you do not want to use wires for the connection.
Pros
10-bit HDR
18 Gbps full HDMI support
60 Hertz Refresh Rate
Cons
Frame Interpolation Not supported with 4k.
5. Epson Home Cinema 2350
Fifth in the list of top 10 incredible Epson projectors is Epson Home Cinema 2350. Its name also shows its numerous visual features that provide a cinematic experience. Owing to its awesome picture projection it can be considered as one of the best options when setting up home theatres or for the sake of playing games by the professional gamers.
Acoustic features: Its 10 watt in built speakers make it worth mentioning in the list for best projectors of Epson for gaming and entertainment. This voice quality will help gamers to play in a better way and communicate with the fellow players in a better way.
This acoustic feature is enhanced by the bass reflux speakers, Bluetooth speaker support and last but not the least a sound upgrade option by connecting headphones, soundbars or even the AV receivers.
Picture projection: Picture projection quality is also the best in Epson Home Cinema 2350. It is the result of 3 LCD chips, 2800 lumen light source, HLG support and 4K processing.
Input Lag: Its input lag is as low as 20 ms which makes it highly suitable for the use by gamers as this level of lag will allow the game to run smoothly without glitches.
Pros
HLG support
10 Watt In-built Speakers
Low Input Lag
6. Epson Home Cinema 3200
Sixth in the list of top 10 best projectors presented by Epson is Epson Home Cinema 2350. The reasons for mentioning it in the best Epson projectors list are mentioned below:
Image quality: As it is also a cinema projector manufactured by Epson, therefore its visual features are top notch like all the other cinema projectors made by Epson. It has 3 LCD feature along with a 4K processor, digitalized video processing feature, 2900 lumen light source,10-bit HDR (2) full technology. All these features provide the best possible image.
Unique features: Apart from the features mentioned above, this projector does possess some unique features like an apt Bluetooth feature and an active 3D support. Moreover, its lens precision is very high which produces a 3 dimensional image.
Pros
3D Support
4K Processor
3 LCD Chip Feature
7. Epson EpiqVision Mini EF12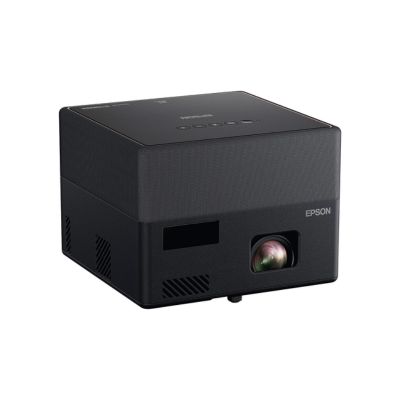 Next in the list of best Epson Projectors is Epson EpiqVision Mini EF12. It is considered as one of the best gaming projectors. Its sleek black case and box like body suits best with a gaming settings.
Sound quality: It contains sound provided by Yamaha. It contains an acoustic system that can easily compete with sound bars. It can also work as a standalone speaker when connected via Bluetooth.
In built Android: It contains In built android television which enables the users to enjoy movies, binge watch series and voice browsing using google assistant. This can allow the users to watch content on YouTube and also watch content on HBO, Hulu and other applications.
Image quality: It has incredible image technology owing to all the features like 4k processing, laser technology and other features mentioned in all other Epson projectors.
Pros
Incredible Audio
Ports For External Devices
LASER Technology
8. Epson Home Cinema 1080 3-chip
Epson Home Cinema 1080 3-chip is the 8th best Epson projector in the long mentioned list. This projector is best known for its image projection quality. It comes with a D7 chip which ensures high definition quality, 1080 p resolution, bright hues, sharp and clear image.
Moreover, it has a 2000 lumen source of light which helps for achieving the desired image quality. Besides, it has the 3 LCD chip technology which is common to most Epson projectors, along with C2Fine technology which is the unique feature of this model. It has a 50000 to 1 contrast ratio and a 2.1 times zooming ratio. Isn't it incredible to have so many features in one device.
Pros
C2 Fine Technology
2.1 Times Zooming Ratio
50000:1 Contrast Ratio
9. Epson PowerLite Home Cinema 8350
Ninth in this list is Epson PowerLite Home Cinema 8350. This is again a cinema projector which indicates it best image quality and a number of visual features like, 50k to 1 contrast ratio, D7 chip technology, C2 fine technology, 3 LCD chip feature, HD image resolution of 1080p along with 4:3 & 16:9 video compatibility.
In addition to the above mentioned features, it also has 12-bit chip feature and an ETORL (energy efficient) lamp which enhances the brightness level while conserving energy and thus ensuring a sharp and bright image even in daylight. Its light source is about 2000 lumen and a resolution of 1920 into 1080p.
Unique features: Its unique feature is its 4000 hours quiet fan operation with a very low sound of about 22 decibels. This allows the users to focus entirely on the audio of the content. Besides, it has a ceiling mounting drive projection method accompanied by iris auto adjustment.
These features make this projector worth mentioning as one of the best projector presented by Epson.
Pros
D7 Chip Technology
Silent Fan Operation
C2 Fine Technology
10. Epson Home Cinema 880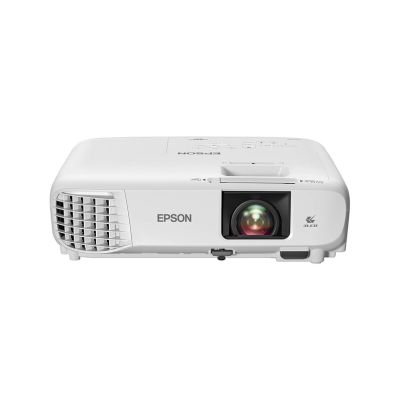 Tenth and last in this long reviewed list of best projectors manufactured by Epson is Epson Home Cinema 880. It is considered as a bright projector in the entire range of Epson projectors. It has been mentioned in this list after shortlisting a number of other projectors which means that it has some best features which helps it standout. Let's discuss these features one by one.
No damage projector: We have listed a number of different projectors with numerous benefits but all these advantages are related to the screen experience of the users. But this feature ensures that no cosmetic damage will be visible if the distance is 12 inches.
Moreover, it has all the visual features similar to the other projectors mentioned above. For instance it has a reliable resolution ratio of 1920 into 1080p. Moreover, external devices can be connected through HDMI port. And it has in built speakers. It can be used for gaming as well as for home theatres and also in work places.
Pros
Incredibly Bright Light Source
Compatible With External Devices
Easy To Operate
Our Best Pick:
After using a number of different projectors and then reviewing the shortlisted projectors it can be concluded that Epson EpiqVision Flex CO-W01 is the best projector in the complete range of Epson projectors in all regards from image quality to acoustics and connectivity plus software features. So if you are looking for the best projector in the Epson range then do opt for Epson EpiqVision Flex CO-W01 as it is a complete package.
Conclusion:
A detailed review of all the projector based on the common as well as the unique features of all the projectors have resulted in this entire list where each projector has been discussed in detail. Besides, pros and cons have been mentioned to make it easy for the users to have a better understanding of each projector under consideration. This helps the users to select the projector easily according to their requirements,
FAQs
1. Does Epson provide suitable projectors for home theatres?
Yes Epson has a long list of cinema range projectors which can be deemed very suitable for setting up home theatres. Although some limitations are also observed owing to the LCD technology but still it is best for providing home theatre range.
2. What is throw distance?
Throw distance is the distance between the screen and the projector for projecting the best possible image size with the best image quality. Throw distance may be different for projectors.
3. Is lumen number important in projectors?
Yes lumen number tells us about the brightness of the light source in any projector. This brightness of light source determines the picture quality in dark as well as bright environment and hence it plays a very significant when it comes to image quality.