There are a number of different projectors in the market but most of the users are searching a product of their own choice. The main concern in the projectors is its brightness. So today we are here with Epson Home Cinema 880 Review which is considered to be one of the brightest projector. It has no doubt the best brightness in the world of projectors but still it is far from being the overall best projector.
Every user select a projector according to their personal usage so if you are searching for a projector according to your requirements then read Epson Home Cinema 880 Review to learn all about it.
Specifications And Epson Home Cinema 880 Review:
Some of the major specifications about the Epson Home Cinema 880 are mentioned below in the table:
Epson Home Cinema 880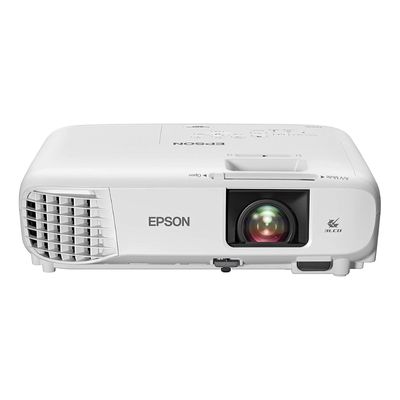 Specifications
Brand: Epson
Model: Home Cinema 880
Resolution: 1920 x 1080p
Brightness: 3,300 Lumens
Screen Size: 25′- 385
Zoom: Fixed zoom
The setup process along with Epson home cinema 880 review and specifications are explained briefly below:
Setup process:
First of all we have to take the projector out of the box, which is easy due to the light weight of the projector.
When the projector was placed at a distance of 10 feet. The image was significantly large of about 110′ inches.
The next step is to connect it to the power.
After the projector is turned on it automatically adjusts its image size due to skew sensing developed in it.
The projector was ready to use after these basic steps.
Design:
Epson Home Cinema 880 is one of the most affordable bright projector available in the market. It has a fast processor and works on 3LCD chip technology. Moreover, it is sleek and has a thickness of 3.6′ inches and weigh about 6 pounds. It is quiet easy to handle which helps in installation of the projector. Along with its sleek appearance it also has a sturdy build quality.
Image quality:
The next big thing about Epson Home Cinema 880 is its brightness and image quality. It has a great brightness level of up to 3300 lumens. It is fair to say that very few projectors can compete with these brightness levels. Due to this high brightness level it is easily visible in any environment even in bright lights.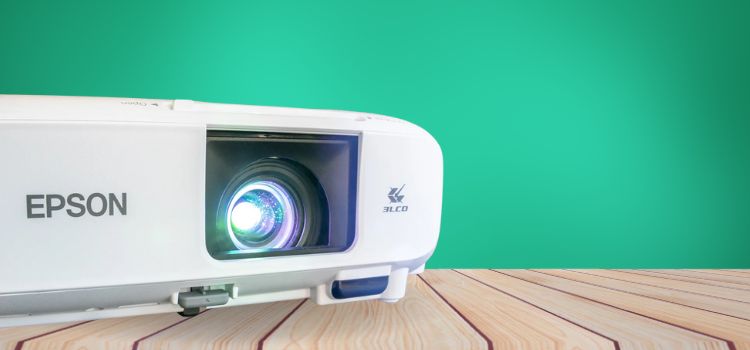 In addition to this, the main use of projector is its projection of media for which its image quality must stand out. But for this projector the case is that it is all about lumens because apart from the high brightness its image quality is dreadful. The images are extremely soft to be considered as 1080p. The contrast of the images is usually washed out and it is difficult to mount or adjust due to the lack of zoom feature. Due to its price tag it is considered adjustable because at this price point no other projector provides this brightness level.
Connectivity:
Now if we look for connectivity options then Epson Home Cinema 880 provides only one HDMI port which is not great but on the other hand it has 2 USB ports which help to connect external speakers and various other devices such as a fire stick. In addition to this, it also provides 3.5mm headphone jack for better media consumption.
Speakers:
When it comes to speakers then Epson Home Cinema 880 has a single 2.0 watts speakers which is below average. As compared to portable projectors which have 2 speakers this projector produces a very dull sound. So, no one is a fan of this projector based on its sound.
Pros and Cons of Epson Home Cinema 880:
There a number of different pros and cons of Epson Home Cinema 880. Some of the pros and cons are mentioned below in the table:
Pros
Compact and sleek
An extremely high brightness level of 3300 Lumens
A remote is also provided
Supports screen mirroring
Cons
Image quality is not good
Contrast is terrible
Single HDMI port is available
Cannot be used in small area
Weak speakers
Verdict on Epson Home Cinema 880:
According to the Epson Home Cinema 880 review it is easy to say that people select a projector according to their uses. And this projector is good in some aspects and poor in some. It all depends on the user that if they want to buy it or not. For instance this projector is poor for gaming even it has a high brightness.
Epson Home Cinema 880 can not be used for gaming even it has a high brightness level because of the high input lag it provides. So, its best use is in the media consumption as it has a high brightness which helps with the viewing capability but the speakers are weak so external speakers can also be used.
Conclusion:
Epson Home Cinema 880 Review provides a complete guide about the projector. Moreover, it helps a buyer to select the projector according to the options and choice of features required. If you want to buy a bright projector then there is no other option in market at this price point but if it is concerned to image quality there are a lot of other options. I hope Epson Home Cinema 880 review is helpful for you. Good Luck!