In recent years projectors have advanced a lot. Today we are here with Kodak Luma 350 Review, a smart portable projector considered among the flagships of the kodak company when it comes to palm-sized projectors. Kodak Luma 350 is a type of travel ultra mini projector which can be carried anywhere in the pocket. Moreover, it acts similarly to projectors used as a home theatre. It has in-built speakers, which makes it a complete travel projector.
Kodak Luma 350 Review: An Overview
Many people set up home theatres using projectors. If you are looking to take a home theatre with you anywhere, then consider using Kodak Luma 350, which is an ultra mini portable projector. Despite its small size, it possesses similar features to a home theatre. It has a mid-range price and provides absolutely everything possible at this price. So, today we are here with Kodak Luma 350 Review, which describes all its features and experiences. Some of the critical specifications are mentioned below in Kodak Luma 350 review:
Kodak Luma 350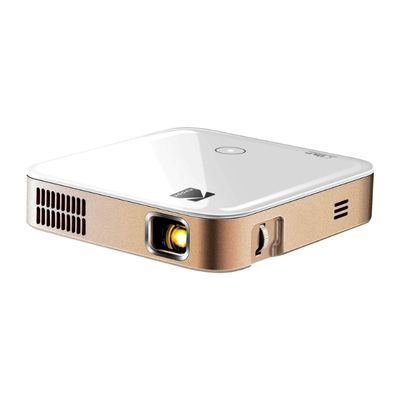 Specifications
Brand: Kodak
Model: Luma 350
Resolution: 854 x 480p
Brightness: 200 Lumens
Screen Size: 30-110′
Zoom: Fixed
Why Choose Kodak Luma 350?
Kodak Luma 350 is an ultra mini portable projector that can be used for traveling. It has various specifications which can be considered when buying. Some of these specifications are explained below in detail, which help in Kodak Luma 350 review:
1. Design:
Kodak Luma 350 is a sleek portable projector weighing about 12 ounces. It can be easily carried in a backpack. Moreover, it has feet that can be set on any flat surface easily. It has a clean body with just the logo of Kodak and a black control button circle. Speaker grills and fan grill is also placed on its side. It comes with a control remote and a charger used to charge its battery.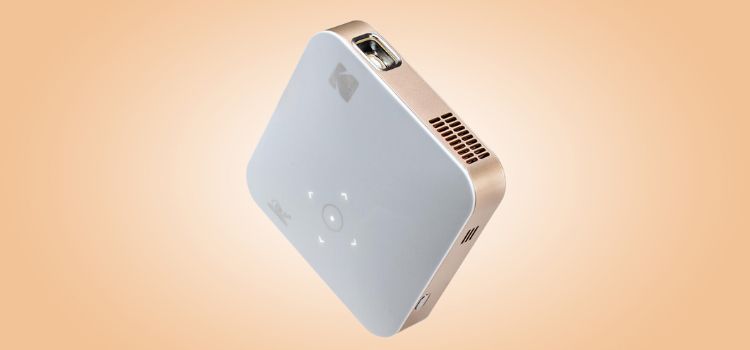 2. Resolution And Video Quality:
Kodak Luma 350 has a resolution of 854 x 480p, which is not considered among great resolutions. In addition to this, other portable projectors like BenQ GS50 provide a better screen resolution than Kodak Luma 350. So, the resolution is a downgrade for this projector compared to other features.
Moreover, the resolution is moderate, and the video quality is above average. Kodak Luma 350 is not great when it comes to brightness levels. So, this projector requires a different dark environment to perform better. It provides only 200 Lumens, while other projectors like BenQ GS50 provide much better brightness. So if you consider resolution and brightness, then you can consider other choices as well.
3. Battery Life:
Kodak Luma 350 has a total playback time of more than two hours which is not great. Still, considering that it is a portable pocket-size projector, it is considered ok because it is a pocketable projector. It takes about 4 hours to charge to its maximum capacity. Moreover, its playback time is calculated on its use of maximum settings. So, its battery timing might be increased in regular daily use.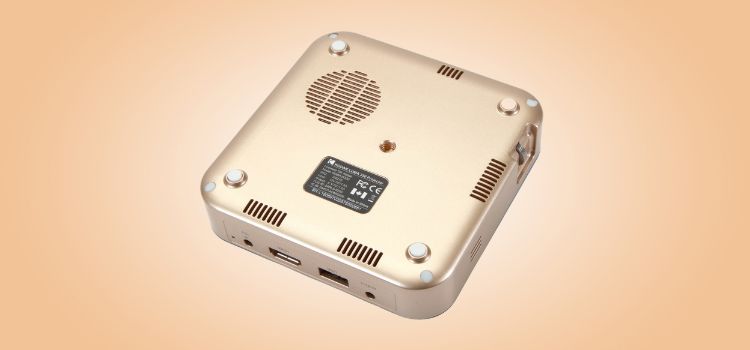 4. Speakers:
Indeed, the speakers of Kodak Luma 350 are among the best speakers available in a portable projector. We still cannot compare them to external speakers, but they sound great. The audio quality is evident, loud, and crisp. In addition to this, it can be connected to external speakers with a wired or wireless connection.
5. Focus Adjustment:
When the image size is increased, its clarity is significantly affected. To correct this, the focus of the image must be adjusted. Most portable projectors do not offer this set in them. For focus adjustment of the image, a small knob is present on the left side of the Kodak Luma 350. This knob is rotated until the image becomes crisp and clear.
6. Connectivity:
Kodak Luma 350 provides a lot of options when it comes to connectivity. It provides an HDMI port, one USB-A port, one audio jack, and a power supply. In addition to this, on the other side, it has a micro SD slot. Kodak Luma 350 provides all these connectivity options even though it also has Bluetooth and wifi for wireless connectivity.
Pros And Cons:
All the devices have their advantages and highlighting features, yet they still possess some drawbacks. Some of the pros and cons are mentioned below, which were seen while Kodak Luma 350 review:
Pros
Great software experience
Excellent portability
Streaming Apps are preloaded
Amazing sound
Cons
Average battery life
Low brightness
Resolution is not great
Conclusion:
Kodak Luma 350 review we came across with a verdict that it is an excellent portable projector with various applications. It is among the best projectors when it comes to sound. If you are looking for a tremendous portable projector, you will consider Kodak Luma 350. But if your primary considerations are resolution and video quality, other options like Xgimi Halo+ or BenQ GV30Xgimi Halo+ or BenQ GV30 are better.
It all depends on the choice of the buyer and what they prefer. I hope Kodak Luma 350 review provides you with every detail about Kodak Luma 350, which might be helpful to you in your buying decision. Good Luck!
FAQ's:
Can we use Kodak Luma 350 outdoors?
Kodak Luma 350 offers only 200 Lumens brightness, so that it can be used only in a completely dark place. In a bright area, brightness might be an issue for its usage.
Is Kodak Luma 350 worth buying?
If you are looking for a portable battery-powered projector, Kodak Luma 350 is the projector you are looking for. But if you are considering buying a projector outdoors with HD resolution, consider other options.