Introduction To BenQ GS50:
BenQ GS50 Review here highlights this device's durability, smartness, and best-quality delivery compared to other portable projectors. But in contrast to all other indoor devices, this is outdoor. By outdoor we do not say that it can never be installed indoors, rather we comply that it has a much better option for outdoor setups.
Therefore, we can say that BenQGS50 is a hope for summer enjoyment. This is because you can enjoy quality screen time with the best audio and video in a natural environment. Whether it is day or night, the projector works perfectly well.
BenQ GS50 Review:
This smart device is smart in working as well as appearance with a weight of approximately 5 pounds, this projector is 6 inches tall and almost 7 inches wide. As far as the reliability of this projector is concerned, it has a hard case which makes it accident-prone. Besides, its case comes with numerous smaller compartments which can be used to place smaller items and accessories.
Moreover, it is so simple to control that even new users can use it easily. It is a cute option for college students who want to enjoy the outdoors with friends. In addition to college students, families can buy and use this device during camping. One point to be kept in mind is that this is not the specific model that can be used for gaming. Although we can still play video games on it, this company manufactures gaming projectors separately with specific gaming features.
Why Choose BenQ GS50?
Specifications are what make a device different from other such devices. If we talk about portable projectors in general in the BenQ GS50 review specifically, then we can say that this portable projector is a blend of numerous different characteristics.
It has a DLP of almost 1080p. Moreover, it has an LED light engine which is known to run for a minimum of 20 thousand to a maximum of almost 30 thousand hours. During the above-mentioned number of hours, the device will work perfectly well and will not certainly require maintenance for the time of working. The signals produced are of HLG or HDR10 quality. Such signals are also called ultra-HD signals. The produced signals are transmitted by the route of HDMI cables.
Not only this but As far as streaming is under consideration an android tv stick of the QS01 model is. A key feature that makes it a treat for projector users is that now we can make keystone corrections, moreover, it can also autofocus and corner fit. And all this is done wireless, thus there is no hassle in checking connections and using wires. Some of its highlighting features are mentioned below which provide a complete BenQ GS50 Review in a short form:
BenQ GS50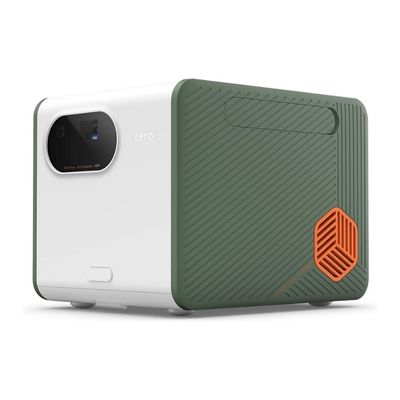 Specifications
Brand: BenQ
Model: GS50
Resolution: 1920 x 1080p
Brightness: 500 Lumens
Screen Size: 30-110′
Zoom: Fixed
1. Picture Quality:
Clearly, BenQ GS50 has great image quality with a smooth image resolution. However, it is a portable projector so it does not provide the greatest brightness. It provides a reasonable 500 lumens brightness but if you go to the max brightness settings its color changes and provides a green tint. Moreover, it provides average color accuracy. The only turn-off is that when you play HDR video and it adjusts itself according to it then it starts flickering continuously. But still, among portable projectors, it provides a better image quality. Its close competitor is BenQ GV30. After a close competition still, BenQ GS50 will win.
2. Battery:
It is quite a difficult thing to perfectly discuss the battery life of a projector. Moreover, still it can be estimated to be about 2.5 hours. It means that BenQ GS50 can project the content for about 2.5 hours continuously without charging. More it is similar to Xgimi Halo+ and BenQ GV30 which are reviewed previously.
3. Connectivity:
BenQ GS50 provides a single HDMI port and two USB ports out of which one is a USB type A and the other is a type C port. Moreover, technically it has two HDMI ports but one is more easily visible than the other.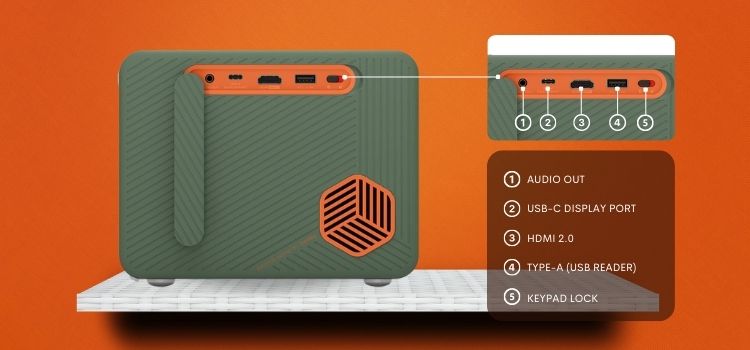 4. Netflix Streaming:
BenQ GS50 has its streaming stick which is used for streaming media. For using Netflix first you have to download the application from the play store but the hustle does not end here. When you start using the Netflix application downloaded from the store the projector remote stops working so you have to use the projector from connecting it to your phone.
5. Speakers:
BenQ S50 has a speaker system of 2x 5Watt speakers which provide a punchy sound that is capable to get loud in a single room. Moreover, its audio has no distortion or issues even on the highest volume. Even, it can be converted to a Bluetooth speaker by using its in-built audio mode.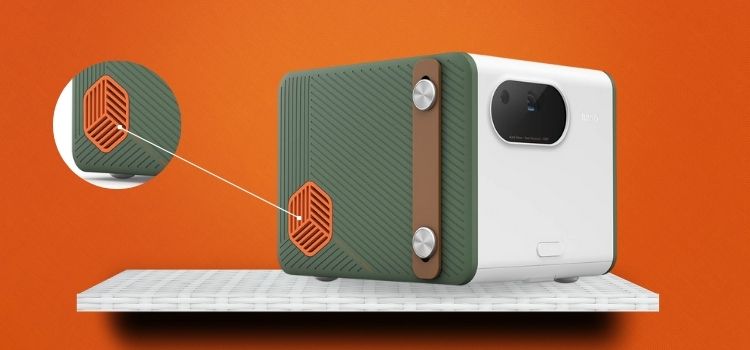 6. Price of BenQ GS50:
According to this BenQ S50 review the price of this device is a little bit higher which means that in terms of budget, BenQ GS50 is a bit expensive. But the features offered in this portable projector make it the best choice in contrast to all other portable projectors that are available in the market.
Pros and Cons:
There are some pros and cons to every projector. The major highlighting pros and cons are mentioned below in the table:
Pros
Great image quality as a portable projector
Attractive and handy design
Excellent sound
Type-C charging
Cons
Quiet expensive
Use of Netflix is not that easy
Working is low
Maximum Brightness has a green tint
Conclusion:
BenQ GS50 review provides the best overview of all the available features and specifications of this outdoor projector. Besides prices are also mentioned. So at the moment, we can conclude that the working of BenQ GS50 is the best among all the competitors. But a point to ponder is the price of this device which is also higher than the devices of competitors. But we can say that this is the price that the user pays for the reliability of the device and its proper functioning. I hope BenQ GS50 Review provides you with complete information about the product. Good Luck!
FAQ's:
Does BenQ GS50 supports HDR?
Yes! BenQ GS50 supports HDR, but sometimes its display starts flickering a little bit.
Is it worth buying BenQ GS50?
BenQ GS50 is a little overpriced, but the features offered and the quality and durability of this projector make it a good choice for people to buy.