Projectors are evolving on daily basis. First there were old conventional heavy projectors but with time they evolved and became compact. Today, the most advanced technology has made projectors sleek and compact. Now portable projectors such as Xgimi Halo+ are used which can be carried at any place any time and work on certain batteries to provide media experience without any fear of not having an electricity connection. Moreover, these projectors are easily to carry outdoors as they don't need any wires to work. Most of the requirements like power connection in the form of batteries and in-built speakers are already inside the projector.
Xgimi Halo+ is a sleek, compact portable projector. It is a 1080p LED projector with a 59watt built in battery which is capable t last about 2 hours continuously. So we can easily say that is is not an inexpensive and dull or dim projector, rather it is an amazingly sleek projector combined with a good picture quality. It is a mini projector with a good brightness level according to its size paired up with good contrast and color.
If you are looking for something compact and wireless for fun then Xgimi Halo+ provides a better experience with all the basic requirements combined with a better brightness and good image quality. Moreover, it has an in-built android Tv interface and ease of customer use is the best thing about this projector. Some of the specifications are mentioned below in the table.
Xgimi Halo+
Specifications
Brand: Xgimi
Model: Halo+
Resolution: 1,920×1,080 pixels
HDR Compatibility: Yes
Brightness: 900 Lumens
Zoom: No
Battery: 52 Watt
LED Life: 25000 hours
Why Choose Xgimi Halo+ Projector?
1. Image Quality:
The Xgimi Halo+ has certain reasons on which they are preferred over other compact projectors. First reason to prefer Xgimi Halo+ is the image quality it offers. It provides 1080p resolution which is more than enough for this size of a projector. As mentioned above it also accepts 4K signals and HDR content.
2. Performace:
Even it is a small projector it provides a fantastic performance. It works without any lag and provides a brightness level up to 900 lumens. This level of brightness is amazing and is viewed comfortably outside.
3. Sound:
These projectors are carriable and does not require any sort of wires for working except a charging wire. So, the speakers in these projectors are amazing and can work alone without any help. The Xgimi Halo+ has harmonkardon in-built speakers inthem .This feature attracts people towards them and provides a great user experience.
Xgimi Halo+ Features In Detail?
1. Design:
The Xgimi Halo+ is about 6.5 inches tall and weighs about 3.5 pounds. It looks to have a metal built but actually it has a plastic built which looks extremely premium. It is carriable anywhere at anytime but lacks a proper handle. It can be placed on any table or a flat surface.
2. Resolution:
Xgimi Halo+ is a 1080p projector but it can all also accept 4k and HDR signals but it can do much with HDR but it is still not a downgrade. It is a sleek projector so it does not provide zoom or lens shift features. Unfortunately, if you want to zoom the image provided by the projector then you have to bring the projector closer. So, considereing the size of the projector it is amazing experience to carry a projector anywhere and enjoy a premium image quality.
3. Brightness:
Along with a good resolution Xgimi Halo+ is claimed to have a high brightness upto 900 lumens. It is considered more than enough for a projector of this size which works on batteries rather than a power supply. Moreover, along with this battery it is great to have such a high brightness levels.
4. Battery:
Xgimi Halo+ has some cons as well. It is said that Xgimi Halo+have an average battery life of about just 2.5 hours or slightly above. It means that you can watch media over this battery pwered projector for just about 2.5 hours continuously at any time and any place.
5. Input And Streaming Options:
Xgimi Halo+ has 1 HMDI and 1 USB port. Along with a single 3.5mm headphone jack. It also includes a remote controller. Moreover, there are various streaming options such as it can play as an android TV. In addition to this, it can play all sorts of media except Netflix. But its ports selection helps to play any sort of media seamlessly.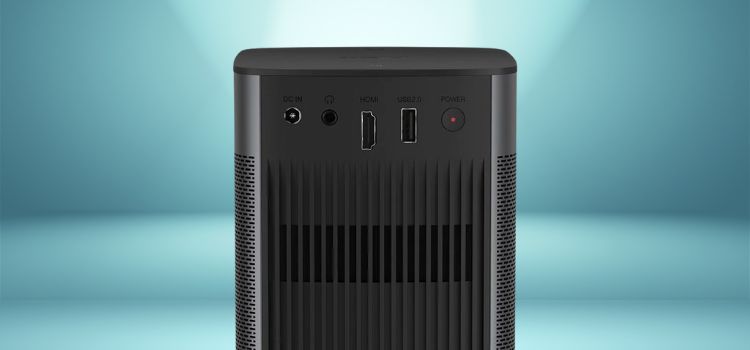 6. Remote Controller:
Xgimi Halo+ has a very non conventional remote with a controlling knob in the center. it has a very unconventional design . It is powered by 2 AAA cells. It has a dedicated button of google assistant.
It has certain pros and cons which must be considered before the buying process. These pros and cons are mentioned below
Pros
Pretty quiet
Extremely fast
Automatic adjustment of pictures
Bright
Excellent image quality
Light weight
Cons
No handle
Bizarre remote
No Netflix
Short battery timing
1080p Resolution
Conclusion:
There are various types of projectors and their uses in daily life. The most common types of projector in modern world is a portable projector as it is sleek and compact and can be used anywhere. Today, we have discussed Xgimi Halo+ which is a compact projector and provides an amazing set of graphics along with great sound. It is considered a worth buying product among those people who want to experience excellent features along with compactness. Some people consider it over priced but it all depends on the personal requirements according which the purchase is a made. Best of luck with your decision.