With every passing moment the world is revolutionizing. So are the projectors. While the conventional projectors were were heavy and bulky, the BenQ GV30 is a whole lot different from them. This article is specifically designed for the BenQ GV30 Review.
It is a cheese wheel shaped projector with speakers covering the entire outer surface. Besides, it is wireless and operates on Bluetooth signals. Its quality volume and sound effects gives it an edge in comparison to other portable projectors. BenQ GV30 review will surely guide you about every advantage & disadvantage that you may face when you buy this device.
BenQ GV30 Review; The First Glance:
When talking about the initial impression, BenQ GV30 certainly leaves a stronger one. It is neither too heavy to be bulky, nor too light to be taken as cheap. Moreover, it comes in a handy case and sophisticated packing. It has absolutely amazing sleek design which helps the users to carry it anywhere. Some of the specs of BenQ GV30 are mentioned below in the table:
BenQ GV30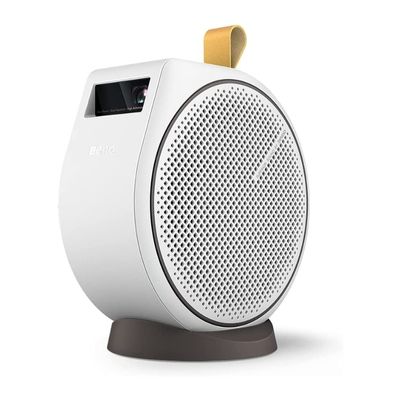 Specifications
Brand: BenQ
Model: GV30
Resolution: 1280×720
Screen Size: 30″–120″
Speakers: 2 x 4.0 watts
Brightness: 300 lumens
Battery: 2.5 hours
Reviewing The Image Quality
Now coming towards the image quality, it has a moderate resolution of 720p. What makes it different is its auto keystone feature which helps find the most appropriate viewing angle. But a drawback that nulls the effect of its advantages is the 300 ANSI strength of its lumens. Therefore, one cannot use it in even a bit of brightness. Additionally, this 300 ANSI is only provided when connected to external source. On a low power usage only 150 ANSI lumens are used.
Moreover, BenQ GV30 provides a customizable options in the form of various picture modes such as, sharp, bright, saturated and etc. These picture modes provides different viewing qualities to its users. The bright mode has a slight tint so most of the people refrain from the bright mode until they need to get the best brightness of the projector. BenQ GV30 review gives a complete overview about its image quality.
Priceless Sound Quality:
The gleaming feature of this projector is its sound quality, which certainly is one of the best. The sound profile is clear which concludes that even at a low volume the voice will not muffle. In addition to this, bass adjustment also adds to the overall experience. All this is due to its 2.1 woofer system which comes with an 8watt woofer. Until now our BenQ GV30 review shows that it may not be the best choice, but it is reasonable for use at home. Hence we can easily say that according to the size of the projector they provide absolutely fantastic sound.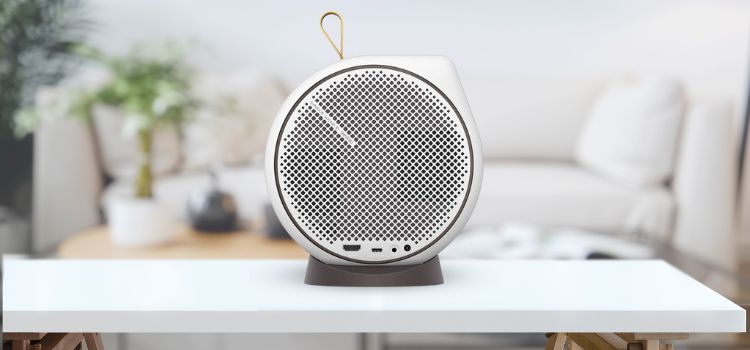 Battery Time:
BenQ GV30 is a portable projector and thus is wireless. This means that it comes with a rechargeable battery which is an absolute convenience. But taken as a drawback is its slow charging which may not last long. It requires about 3 hours to charge completely & this complete charge will last for 2.5 hours. The major con about this projector is that it is battery operated and the battery time is not that great. So, BenQ GV30 is only selected by the users who are not much concerned by its battery time.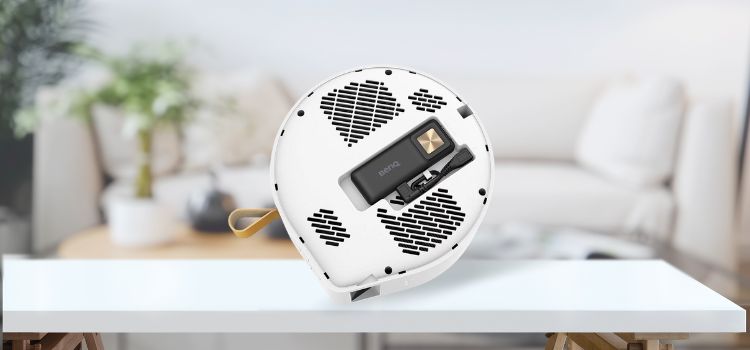 Cinematic And Game Mode:
BenQ GV30 provides a dedicated cinematic mode which offers additional shadows. It is the best portable projector if you want to experience a cinematic mode. In addition to this, it also provides a game mode which is equally important due to its shadows. In the gaming mode the shadow accuracy and the image quality increases up to two folds. BenQ GV30 review is the best guide for the people who are a gamer and consider buying BenQ GV30.
Portability:
Its plastic body with 8.5 cm thickness and 9inch diameter is an evidence of portability. Besides, it weighs merely 1.4 kilograms which makes it even more convenient to carry. So we can say that in the view of portability it is good. As it is battery operated it can be easily carried anywhere at any place. Moreover, its sleek design helps to carry it easily. Some of the pros and cons of BenQ GV30 are mentioned below:
Pros
Portable and small
Great speakers and sound
Diverse connectivity as HDMI, Bluetooth and USB-C
Battery operated
3.5 mm Headphone jack
Great image quality
Cons
HDMI is required for Nintendo TV switch
Slow charging and small battery life.
latency of 300ms
Netflix and Amazon Prime are not supported
Major Competitor:
Its major competitor is Anker Nebula Mars II Pro. On paper the Nebula Mars II Pro provides better brightness and double range of bluetooth connectivity. Moreover, it provides better graphics. So, overall it is better than BenQ GV30 in almost all regards but BenQ GV30 provides a better design and appearance so if the design is not a major concern then Nebula Mars II Pro is a better option.
Conclusion:
BenQ GV30 review concludes that this device is one of the best option in the list of portable devices. But this is not the only aspect to be noted. Other than this we have also observe that this is not the best available device in the market but it certainly is a good choice for the purpose of domestic use for watching movies. Moreover, it appears as good choice to the customers due to its handy case, numerous accessories, excellent quality of sound, great design, auto adjustment option, and beautiful appearance.