Xgimi is quiet a new company but still it has anchored itself well in the category of projectors and it has a few very great devices such as Xgimi Halo Plus which is an excellent portable projector. Today we are here with Xgimi Horizon Pro Review which is a flagship device of Xgimi. Moreover, if you are looking for an ultra sleek and good looking affordable 4k projector then Xgimi Horizon Pro is the best fit for you.
Xgimi Horizon Pro Review: Basics
Xgimi Horizon Pro is an excellent 4k projector with a sleek box design which can be easily carried from one place to another and placed on any surface. Moreover, its is one of the best budget projector in all specs. It has a great range of brightness, a sharp image and great contrast ratio. The sound from this projector is absolutely amazing so it is a best choice for home theatre. In addition to this, it attracts its buyers due to its price and the value it offers for its price. Most of the 4k projectors are extremely expensive but Xgimi Horizon Pro falls in an affordable price range with a lot of features in it.
There are numerous features in Xgimi Horizon Pro. Some of them major features were noticed while Xgimi Horizon Pro Review which are mentioned below:
Xgimi Horizon Pro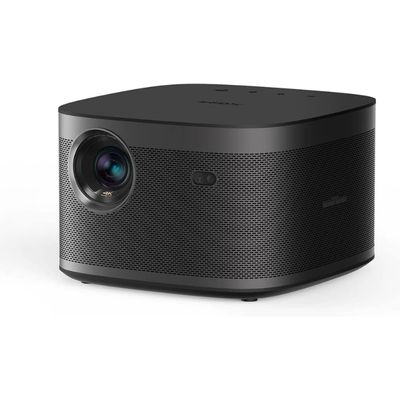 Specifications
Brand: Xgimi
Model: Horizon Pro
Resolution:

 

3840 x 2160p
Brightness: 2,200 Lumens
Screen Size: 30″ to 300″
HDR: HDR 10
Why Choose Xgimi Horizon Pro?
There are various 4k projectors with a vey high price range in market but still there are some projectors such as Xgimi Horizon Pro which provide a lot of features in a very affordable price. Some of these highlighting features observed during Xgimi Horizon Pro review are explained in detail below.
1. Design:
Xgimi Horizon Pro is an ultra sleek 4k projector which provides great brightness. It is a grey metallic box with a hole in the front for the projector lens. Moreover, it is covered with a mesh on sides which consist of its marvelous speakers. It is a design which which can be placed anywhere. On the back various ports are present to provide connectivity options. On the bottom projector feet are present and also a point where it can be attached to a tripod stand or mounted to the ceiling. A built-in gyroscope is also present in the bottom to adjust the image automatically.
2. Image Quality:
It is quite easy to say that Xgimi Horizon Pro is easily one of the best projector available in market in terms of the image quality and resolution. Xgimi Horizon Pro provides a 4k resolution which is amazing to watch. In addition to this, it provides a maximum brightness up to 2200 lumens which is an extremely high range. This means you can use the projector in dark as well as in well lit environment. Due to its high resolution and high brightness there is no competition in market for its image quality. The images are sharp, vibrant and have a good contrast ratio.
The things mess up when the upscaling is required form a low resolution. The images become grainy and the shadows might fade out providing inconsistent images. Another highlighting feature is that Xgimi Horizon Pro provide an option to consume 3D content as well so if you are a person who loves 3D content then Xgimi Horizon Pro is the projector made for you.
3. Sound Quality:
Xgimi Horizon Pro is a projector which sounds amazing. It has 16 watt speaker specially tuned by Harman Kardon. These speakers provide quiet a good sound which is enough to use in daily life. But if you are a professional gamer or setting up a home theatre then you might connect it to a sound bar.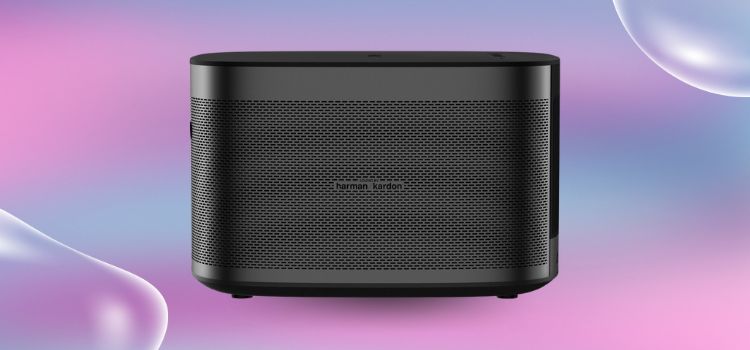 4. Connectivity Options:
Xgimi Horizon Pro provides a vast port selection to connect external devices. On the back it has two 2.0 HDMI ports, two USB 2.0 ports, a 3.5mm headphone jack, a power slot and an ethernet port. In addition to this, it has a Wi-fi and Bluetooth options to connect wirelessly to external devices.
5. Automatic Focus:
The Xgimi Horizon Pro has an automatic focus setting. In other projectors there were sharpness issues you just can not ignore. The focus of images wee not adjusted perfectly. But Xgimi Horizon Pro has a separate auto focus camera located near its lens and when this projector is moved or turned on it automatically jumps to that camera to adjust its focus automatically. You can also turn this setting of from the settings.
6. Auto Keystone Adjustment:
In Xgimi Horizon Pro the auto keystone adjustment in on a next level. It uses AI to automatically adjust its projection. The AI is smooth and it detects the angles and obstacles in the way and projects the image perfectly even at angles like 40 degrees. Like focus settings you can also turn off this feature from settings.
Pros and Cons:
Some of the pros and cons observed during Xgimi Horizon Pro review are mentioned below:
Pros
4k, HDR10 resolution
Amazing Brightness 2,200 Lumens
Sleek design
Great Sound
Comes with In-Built Android Tv
Affordable Price
Cons
Upscaling Issues
Sometimes Grainy Image
While Streaming Lapses Occur.
Conclusion:
There are various 4K projectors in the market. These projectors below to flagship segment. So it is undersrtood that their price would be extremely high. But Xgimi Horizon Pro is an amazing projector with nearly all the features present in a affordable price. If you are searching a projector for home theatre then Xgimi Horizon Pro is a great pick due to its image quality, sound, and brightness levels. But if you are a gamer you would prefer a projector with higher refresh rate. But still the design of this projector with all the features it offers at its price point is the reason for attracting people.
We would suggest that Xgimi Horizon Pro is one of the best budget 4k projector. I hope this Xgimi Horizon Pro review provides you a complete guide about it. Good Luck!