You get to cherish quality with style when you choose a portable mini projector for watching movies and displaying other videos or even slides in office set ups. When numerous mini projectors were tested for these functions, none of them showed results similar to the home theatres or full size projectors. But Xgimi Mogo Pro review clearly shows that you can get quality and aesthetics in a single choice.
Besides an inbuilt TV mode diminishes the requirement for any additional media player. Isn't it one of the best options available in the market. In order to prove this point we will go through an entire Xgimi Mogo Pro review. This will clear our doubts and provide a broader view into the field of portable mini projectors.
Xgimi Mogo Pro Review
If you are a projector lover then you know that finding a suitable movie projector that is portable as well is a very difficult task. But not any more. Xgimi has designed this movie projector in the best possible way to fulfil every desire of the consumer without compromising on any end.
With a resolution of 1920 into 1080 this projector displays an image with a balanced brightness and appropriate color and contrast. Moreover the options for picture quality are very detailed in contrast to all the competing devices. The best part is it 2 hour long battery life which is reasonable for any movie projector. Besides, it come with a charging cord which is at least 8 feet long. Another fact revealed in this Xgimi Mogo Pro review is that, it consists of a google assistant & a chrome-cast which can help the user with online streaming. Therefore we can say that it contains all the facilities for live streaming.
Although this projector has all the facilities that are required for watching movies and videos online, but still the device has USB port as well as a port for an HDMI cable. These ports can be used to connect any external device as and when required. These can be used to connect external speakers. But in most cases you would not want external speakers because the internal speaker work reasonably well.
Xgimi Mogo Pro Review: Specifications
Each device has certain specifications that tell about it working and utility. In the same way some of the most prominent and useful aspect of this device are listed in below:
Xgimi Mogo Pro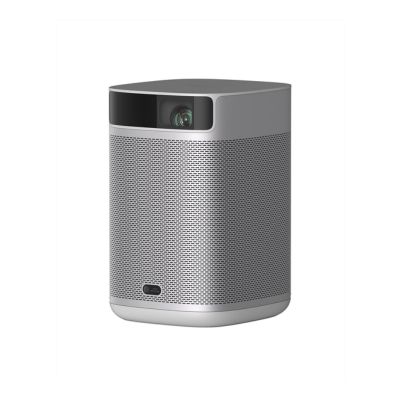 Specifications
Brand: Xgimi
Model: Mogo Pro
Resolution: 1920x1080p
Brightness: 300 Lumens
Screen Size: 30′-200′
HDR: Not Supported
Why go for Xgimi Mogo Pro out of all portable movie projectors.
Here are numerous reasons which support the purchase of this projector. Some of these reasons are listed below:
1. Quality Of The Image:
While buying a projector especially for watching movies you must pay attention to the quality of the image. If you go out looking for projectors you will find a lot of projectors with 480p images. This might proceed up to 720p but getting higher than this value especially when movie projector surely is a task of higher difficulty level. This projector uses the LED lumen technology with three hundred lumens to project an image of about 1920 to 1080p. This value is very high which means that image projected is of very good and reliable quality.
2. Portable Nature And Good Battery Life:
Xgimi Mogo Pro review shows that the device is powered by battery which can be charged later. Normally this feature is not given a great deal of importance if the other features are good. But in this case battery is another best option that is offered by the Xgimi Mogo Pro. The battery of this device can work non-stop for two hour without charging the battery or without connecting the device with an external electricity source, same as Xgimi Halo+. The portability is enhanced by its smart size, less weight and compact designing which allows it to carried easily within different rooms.
3. Reasonable Price:
When we go through the price of different projector we realize that you can buy the projector as cheap as 300 dollars and as expensive as 1000 dollars. But once the range of 700 dollars is crossed to get to look at good and reasonable projectors. This projector also comes with a reasonable price and is mini as well as battery operated. So this is in turn a good device and has an acceptable price range according to Xgimi Mogo pro review.
4. Ease Of Use:
Out of all features this feature is most important one. Xgimi Mogo Pro review shows that this projector is very user friendly. The interface is quite simple and easy to operate. Moreover, it can be set up easily and even a person who is setting up and using the projector for the first time can set the device by using the guide and other pamphlets.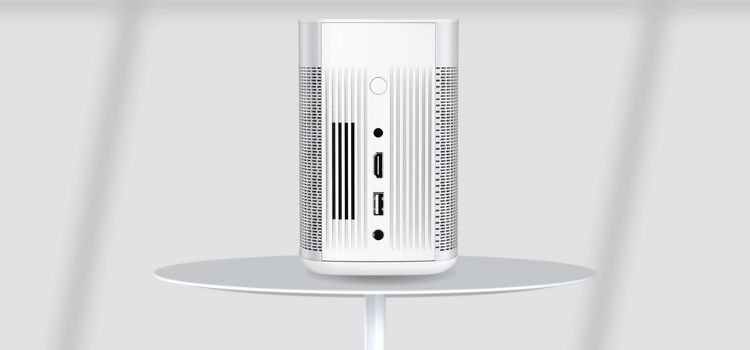 Pros And Cons:
Some pros and cons observed during Xgimi Mogo pro review are mentioned below:
Pros
Great Image Quality
Good Sound
Sleek Design
Cons
Low Brightness Levels
Limited Port Selection
Conclusion:
This overall comprehensive review is enough to realize the advantages and disadvantages that one might face when they buy this portable mini movie projector. Xgimi Mogo pro review also shows that the features offered by the concerned projector very well suit the price to be paid while buying this device. This projector is the best option while buying a small sized yet portable projectors for the purpose of watching TV and movies or for streaming.