The market of projectors is getting bigger and if you want to find any sort of projector according to your requirements there is always an option available. The ViewSonic M2e is a projector from M series and it provides some absolutely astonishing features which are not common in portable projectors of this price range. The ViewSonic M2e provides a futuristic look paired with a shape which is useful for indoor as well as outdoors such as camping and planning a movie night. Moreover, by using it we have gathered some of its highlighting features which are mentioned in ViewSonic M2e review.
ViewSonic M2e Review
Like all other electronic devices, projectors come in different shapes, sizes and specifications. Therefore choosing a suitable option for very person in accordance with his demands is quite a hassle. Therefore, we have used all the projectors and after a thorough analysis we provide you ViewSonic M2e review so that you can learn about its specifications and features without having to use it yourself.
ViewSonic M2e
Specification
Brand: Viewsonic
Model: Viewsonic M2e
Resolution: 1080p x 1920p
Brightness: 1200 Lumens
Zoom: Automatic
1. Design:
When you talk of ViewSonic M2e, it generally reminds you of an older version of Mac Mini. It is an incredible portable projector when it comes to carrying it from one place to another without any kind of difficulty. Its 1 kg weights further favors the portability of this device. Besides, it blends well with any room decoration owing to its glossy meteor grey finish. It comes with a remote control that allows you to control majority of functions, but still you can also connect your cell phone and utilize it to access the features on this projector.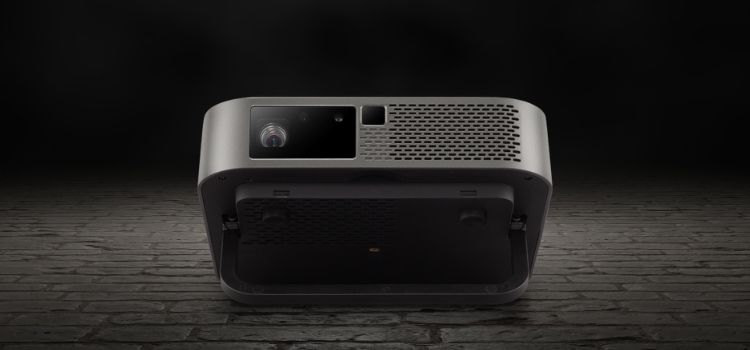 2. Mounting Convenience:
Talking about its mounting convenience we can strongly claims that its stand allows the user to control its projection angle according to the room size and the position of the projector. You just need to select a nook of you room that is about 6 feet away from the screen and select the square off option present in the settings of your projector. Still if you face any difficulty, the auto-focus feature will aid you in forming a clear and sharp image.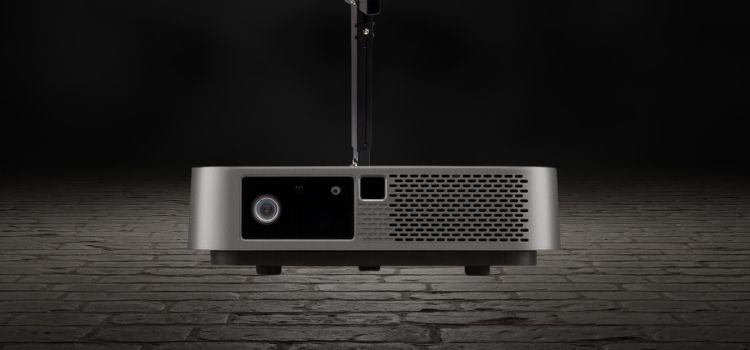 3. Connectivity:
ViewSonic M2e review revealed about the incredible connectivity of the concerned device. It is equipped with ports for connecting USB, HDCP, HDMI. Not only this, but you also are free to connect a power bank as a power source by utilizing any one of the aforementioned port. Apart from this , it can support Wi-Fi & Bluetooth like any portable projector available in the market. In a nutshell, this projector is compatible with any external device.
4. Acoustic Features:
Equipped with Harmon/Kardon speakers, this projector is best in a closed room surrounding in accordance with the ViewSonic M2e review. But still if you want to indulge completely into the sounds, then you can always synchronize the projector with external speakers or even use an AUX. Certainly this projector is equipped for connecting all kinds of external devices. The best part is the travel pouch provided with the projector which is big enough to fit in the compact projector along with all the accessorizing external devices.
But this is not the only advantage. A comprehensive ViewSonic M2e review has revealed yet another bonus point that is undiscovered even by most frequent users. It is the standalone speaker option of ViewSonic M2e which allows the user to utilize it as a speaker, without any video. This option is truly extraordinary.
5. Functioning & Performance:
Setting this projector is very easy. You can always set the brightness, sound and lighting according to your needs and wish. After reviewing ViewSonic M2e, now let's discuss the most important part i.e., the visuals. With its 1080p resolution it is fully capable of projecting an image of about 100 inches at maximum, which is suitable for most users. This image is projected from a distance of 3 meters which is very reasonable for any portable projector.
ViewSonic M2e review has shown the concerned projector as one of the best devices to be used in a darker environment, but it can still be used in bright rooms. Despite its reasonable image size and quality, a quality that nullifies the effect of all such features is its highly convenient software. You can always load apk applications as well as all other famous applications like prime video and Netflix to enjoy great content. Besides, no cables are requisite. You can use the mirroring feature to even project the image or video directly from you cell phones. And cell phone or tablets can be both android as well as Mac in origin.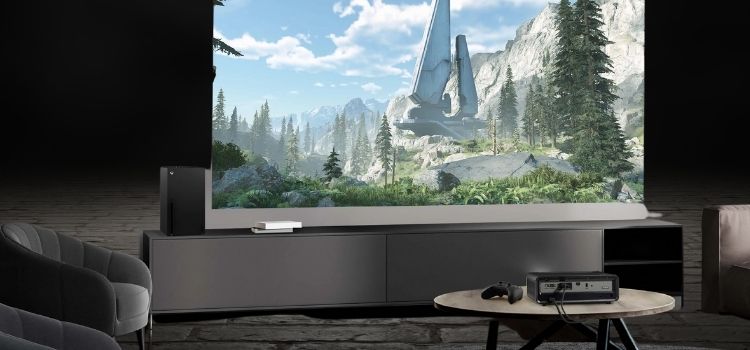 Pros & Cons:
Pros
Large Display
Extremely Good Speakers
Different Connectivity Options
Conclusion:
After detailed analysis and review of ViewSonic M2e, we have reached the conclusion that overall this device a dream to all campers and travelers who want to enjoy a movie night out in the darkness of star filled nights. Besides, it easy setup and mounting allows the users to enjoy it features without getting into hassles like wires, complicated settings and mounting problems.
Reviewing ViewSonic M2e features shows its utility for entertainment purposes like binge watching movies, playing games and listening to songs without turning on the video. You can always carry it during your long tours and outdoor trips owing to its specification that allows it to be powered by external power banks.
Therefore, this can be considered as one of the most innovative creation of this company in regard to its reasonable price. Although the company is still working for providing a more compatible and user friendly version for the customers.
FAQs:
Is ViewSonic M2e a DLP device?
Yes! it certainly is a DLP LED projector as it is equipped with sealed LED.
Can I use ViewSonic M2e in daylight?
Surely you can use this projector in bright as well as dark ambience. But its image quality is best when used in a dark room with little or no light.
Is this device compatible for gaming?
Although ViewSonic is not advertised as a gaming projector, rather it is advertised more off as a portable projector. But despite this fact, it can be used for gaming indoors without any issue.