T.V or projector which one is better for watching movies and gaming purpose? This has been a long debate for many years. But after using a number of projectors and testing them rigorously we can finally conclude that projectors are much better than T.V when they are 4K. But not all 4K projectors have made a mark. One 4K projector that astonished us with its remarkable quality is BenQ TK860i. Therefore, we have provided a complete BenQ TK860i Review to ease the people who are looking for the best 4k projector.
BenQ TK860i Review; Some Basic Features:
BenQ TK860i is a 4K projector known for its remarkable specifications and smooth running. Not only does it have user a futuristic appearance but its features are incredibly user friendly. It is now the first choice for gamers and those who are looking for a suitable projector for setting up home theatres. With a small weight of 9 pounds this projector forms the brightest and sharpest image with a number of possible sizes ranging from 40 to 200 inches. Read our BenQ TK860i Review to know more about this miraculous projector.
BenQ TK860i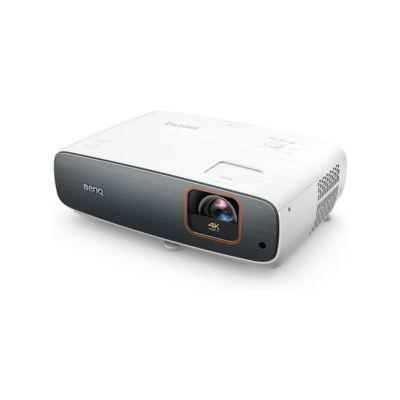 Specifications
Brand: BenQ
Model: TK860i
Resolution: 3840 x 2160p
HDR Compatibility: Yes
Brightness: 3300 Lumens
Why Choose BenQ TK860i?
Most people would wonder that why choose BenQ TK860i when there are a number of other 4K projectors available in the market. This is because after carefully testing the product in real time it is clear that no other 4K projector competes with BenQ TK860i. Some of the reasons are mentioned below:
Durability In Style
Most projectors are either stylish or durable. But to your surprise, this projector provides durability in style. Its built is sturdy yet it tends to blend with the surrounding. But despite its sturdy built, it weight only 9 pounds.
Display Features
Certainly, display quality is the best possible feature that is offered by BenQ TK860i out of all other specifications. The image formed by this projector is incomparable to any other projector we have tested so far. It offers a 3840 into 2160 resolution owing to its UHD 4K feature. Every detail is enhanced to such an extent that it feels like a real time visual. This is possible due to its 8.3 million pixels.
The image quality is further enhanced by its 50000:1 color contrast ratio which provides the projector with a bright white & onyx black shades at the same time. The images thus formed are sharp, smooth and distinctly hued. Such high end image quality impacts the overall experience of the user to a great extent.
HDR Pro Feature
This feature is not present in many projectors. It adjusts the color brightness in distinct sections of the image according to the image requirement by using the tone mapping & contrast enhancing technology. This results in a stunning image with perfectly balanced ratio of colors all over the screen. Besides, it also preserves distinction between different shades of darkness making the darker scene much more clear and comprehensible.
Streaming Sites
Accessibility and smooth running of streaming sites is the most significant demand of users who are setting up a home theatre. Like all other incredible feature, this feature also works perfectly, rather this projector is also considered as a complete entertainment package. It is compatible with any android TV as well as all such streaming applications like Netflix. Therefore, you can easily binge watch your favorite series or movies on BenQ TK860i. BenQ TK860i Review also reveals this projector to have voice search option which is a cherry on the top of the cake.
Versatile Compatibility
When it comes to compatibility and connectivity, BenQ TK860i is the best choice projector of all. Apart from HDMI which is present in all other projectors, it also has a eARC & SPDIF for connecting Dolby atmos audio and 7.1 channel. Therefore, BenQ TK860i is open to all external devices ranging from external speakers to gaming consoles and even T.V sticks, thus making it a versatile projector when it comes to functioning.
Acoustic Performance
Audio quality of BenQ TK860i is also top notch like all other features. The audio quality is enhanced manifolds in contrast to other projectors due to the 5 watt tre-Volo speakers that ae best for producing higher bass and high volume audio thus limiting the use of any external audio device. These speakers also produce a three dimensionality in the acoustics.
Installation Ease
Installation seems like the most difficult aspect of a projector. But BenQ TK860i review reveals that mounting has been made extremely convenient in the concerned projector. The 1.3 times zooming feature allows the user to zoom in and zoom out the projection in order to fit if perfectly onto the screen without moving the whole projector back and forth within the room.
Moreover, the 2-dimentional keystone correctio feature coupled with 10% vertical shift in lens allows the user to mount projector in the closed space of apartments while retaining the image clarity, sharpness and a perfect fit onto the screen of variable sizes.
Pros And Cons of BenQ TK860i
Pros
5 Watt treVolo Speakers
HDR Pro Feature
50000:1 Color Contrast Ratio
1.3x Zoom
eARC & SPDIF
Concluding Remarks
After carefully analyzing we have presenting a comprehensive BenQ TK860i review which provides a complete description of each and every aspect of the projector mentioned above. This detailed review clearly shows that BenQ TK860 is an incredible device that offers modern technological specifications.
Be it a long gaming session with your buddies or a movie night with your family, this projector is equipped to provide a commendable 4K experience to its users. Although its price & input lag may decrease its appeal to the users who want the absolute best in every aspect, yet to a common individual who wants to enjoy his leisure time, this device is the best choice.
Its versatility is enhanced by its compatibility with live streaming apps and external devices which makes it suitable for binge watchers and gamers. Certainly, BenQ TK 860i review shows that this projector may not be the ultimate best but it is a good and reliable choice for most users in the market.