If you are looking for a projector which provides a bunch of features then LG PF50KA is the best choice for you. LG PF50KA is a compact and storable projector which can be carried in a backpack anywhere. Normally its weight is lighter than a laptop but can project an enormous screen size of about 100′ inches. Moreover, it operates on a battery making it comparable to other portable projectors like Kodak Luma 350. Read the article below to go through a complete LG PF50KA Review.
LG PF50KA Review: A Quick Overview
There are a number of different portable projectors in the market. Each of them have their own distinguishing features. For LG PF50KA it is considered to be the most complete portable projector as it has great features as compared to other portable projectors.
For example it provides 600 lumens brightness which is great as compared to other portable projectors. It is quite interesting that a portable LED projector is capable to provide a brightness of this range. In addition to this, it can be carried anywhere as it is lighter than a laptop. Moreover, it can render your content up to a resolution of 1080p with 600 lumens which is a great achievement for a device of this size. So there are a lot of features of this projector which make it an interesting choice for the consumer. Some of it's specifications are mentioned below which help in LG PF50KA Review:
LG PF50KA Review
Specifications
Brand: LG
Model: PF50KA
Resolution: 1920x1080p
Brightness: 600 Lumens
Screen Size: 20′-100′
Zoom: Fixed
Why Choose LG PF50KA For Daily Use?
There are various factors which force a user to this projector. Some of these factors are discussed in detail. There is a lot in LG PF50KA review so let's get started.
1. Design:
LG PF50KA is a compact wireless 1080p projector which has a sleek modern design. The body is made up of white plastic box with squared sides. And its weight is less than a laptop which is about 2.2lbs. The lens are bulged outside for the front of the projector covered in a metallic frame.
On the back side of the projector all the ports are present which are used to connect it to various external devices. The top of the projector have a few navigation keys which are typically used to operate the projector. The feet of projector are present on the bottom which are used to place it on a flat surface easily. When we talk about its operating technology it is an LED projector.
2. Picture Quality:
When we use a projector the content is displayed on a relatively large screen. Which means that the pixels are spread over a larger area leading to a decline in image quality. But LG PF50KA seems to do great when it comes to the image quality. It provides a resolution of 1920x1080p which is more than enough for a portable projector of this size. LG PF50KA provides a brightness of 600 lumens which is a lot better then its competitors like Anker Nebula Capsule.
It is quite rare that an LED portable projector provides such high range of brightness. So, it is capable to provide a sharp and crisp image with a high contrast ratio in a pretty dark room. The image quality is the main factor in LG PF50KA review which obligates the users to go all put to buy this projector.
3. Connectivity:
The Highlighting feature of this projector is the multiple connectivity options provided in it, which is not common in portable projectors. The ports for connectivity are provided on its back side which consist of 2xHDMI ports, a single LAN port, an antenna for TV and a charging port. In addition to these wired connections this projector also offers in-built Bluetooth and Wi-Fi for wireless connectivity.
4. Dedicated Gaming Mode:
LG PF50KA is one of the very few portable projectors which provide a dedicated gaming mode specially for gaming enthusiasts. The main function of a gaming mode is to reduce the input lag of the device as compared to the normal mode. So, if you are a gamer you need to go to settings then select the picture mode and turn on the gaming mode. As claimed by the company the lag in gaming mode is reduced significantly to 40-50ms which is great limit for a casual gamer.
5. Battery time:
LG PF50KA has a standby time of about 2.5 hours which is an average time. Moreover, it is common in portable projectors to have this standby time but it is considerable that it provides better features as compared to other projectors in this standby time. Battery is a let down in this projector as compared to its other features which are extraordinary.
6. Speakers:
As it is a pretty small sized projector you cannot expect a large sized speaker in it. So, we cannot say that the speakers present in LG PF50KA provide an amazing sound they just do their job well. If you want a great theatre experience then you must connect external speakers. They can be connected either by Bluetooth or by 3.5mm audio jack it is up to you.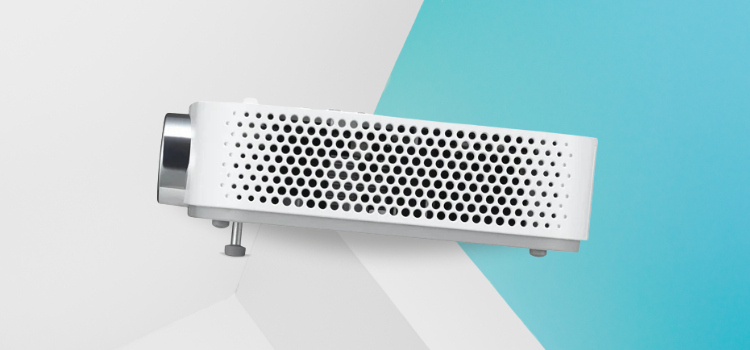 7. Additional Features:
LG PF50KA have some additional features which makes the projector even more interesting. one of these features is keystone adjustment which is completely automatic and sets the image automatically. In addition to this, LG PF50KA has a built in LG TV UI which helps the user play Tv easily on this projector. Moreover, this UI adjustment also helps the user to avoid a complete Tv setup through the HDMI port and make this projector an instant using device.
Pros And Cons Observed While LG PF50KA Review:
While LG PF50KA review a lot of pros are observed but still no device is perfect in all aspects so some cons are always present. Some of these pros and cons are mentioned below:
Pros
600 Lumens Brightness
Compact Size
Gaming mode
LG TV UI Provided
Great Picture Quality
Cons
Fixed Zoom Settings
Average Sound Quality
Conclusion:
LG PF50KA Review suggests that it is one of the best portable projector with a great set of features provided. It has the best feature among its competitors as compared to its price. Moreover, the image quality and brightness provided by this projector at this price point is incomparable. It all depends on the choice of buyers that which projector they prefer according to their requirements. I hope LG PF50KA review provides you a complete guide about the projector. Good Luck!