There are various categories in market these days but if you are looking for a budget projector then very few options are available in this category. Moreover, it is extremely rare these days that you get a most advanced projector with a lot of features in a cheap prices. Today, we are here with Yaber Pro V7 review, which is a budget king with almost all the features available under 300 dollars. Many people think they have not heard about Yaber but they are n the market since 2016. It is a company which provides the best value to money.
Yaber Pro V7 Review: Basic Specifications
Yaber Pro V7 is a budget projector with a resolution of 1920 x 1080p and supports 4k ultra HD. Moreover, it has some outstanding features like 6D automatic keystone adjustment. Yaber Pro V7 comes with an amazing 50%-100% zoom function. It has an amazing connectivity options and an extremely bright screen. These were some of its specifications which are fitted in a sleek white box shaped body.
Some of the highlighting specifications observed during Yaber Pro V7 Review are mentioned below:
Yaber Pro V7
Specifications
Brand: Yaber
Model:

 

Pro V7
Resolution: 1920 x 1080p (Supports 4K)
Brightness: 9,500 Lumens
Screen Size: 50′-350′
Zoom: 100% – 50%
Why Choose Yaber Pro V7?
While Yaber Pro V7 review we got to know about its amazing features which attract the users for buying this projector some of them are mentioned above. If you are thinking that why choose Yaber Pro V7 then we will help you to explain some of its highlighting features which will be helpful in your decision of choosing a projector.
1. Design:
Similar to other projectors in the market Yaber Pro V7 comes with a sleek and simple design. Yaber Pro V7 with loads of features is a plain white box with the lens present in the front with a name tag of the brand. The back has all the input options available in this projector. There are grills for the speakers on both sides and on the top there are few buttons for the operating the projector. Moreover, this projector can be placed anywhere to project the screen.
2. Input Options And Additional Box Accessories:
Yaber Pro V7 comes with 2 standard HDMI ports, a single 3.5mm headphone jack, an AV ports and a power supply port. In addition to this, the Bluetooth and Wi-Fi connectivity is also available straight out of the box for wireless connections. Moreover, Yaber Pro V7 has an excellent unboxing experience due to the thing available inside the box. Things you get inside the box include the projector, its user manual, a power supply cable, lens cover, a remote controller. Some additional things include a lens cover, a cleaning cloth, HDMI cable, cleaning kit and a carrying bag for projector.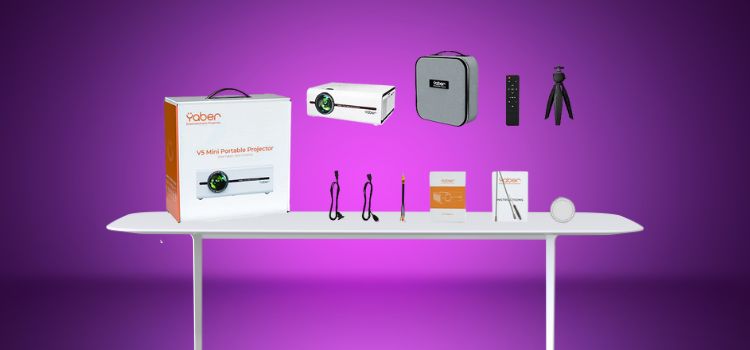 3. Display And Image Quality:
Yaber Pro V7 review shows that it comes with a 1920 x 1080p display which also supports 4K ultra HD. In addition to this, it has a contrast ratio of 12000:1 and has 8-Bit colors. It has an amazing brightness of 9,500 lumens which is very high as compared to Optoma HD39HDR which is know for its high brightness levels.
When it comes to the image quality Yaber Pro V7 stands out among other projectors due to its great resolution combined with the contrast ratio and amazing brightness. It is the considered the most affordable and best projector when you look projector for home theatres. It has a great image quality with sharp and vibrant images.
4. Digital Zoom:
Yaber Pro V7 comes with a feature which is not present in most of the projectors which is the capability of digital zoom. It provides you an opportunity of 50-100 percent digital zoom. Which helps to increase or decrease the screen size and automatically adjust the image quality by zooming in or zooming out.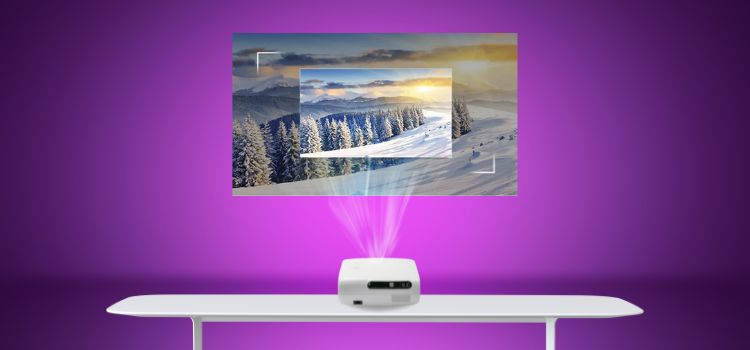 5. Sound:
The only downgrade observed while Yaber Pro V7 review is its speaker quality as they are not loud enough to be used in a medium sized room. If you are looking for a projector for home theatre then Yaber Pro V7 is the best projector but it is not loud enough so you might consider using extremal speakers which can be easily affordable due to the cheap price.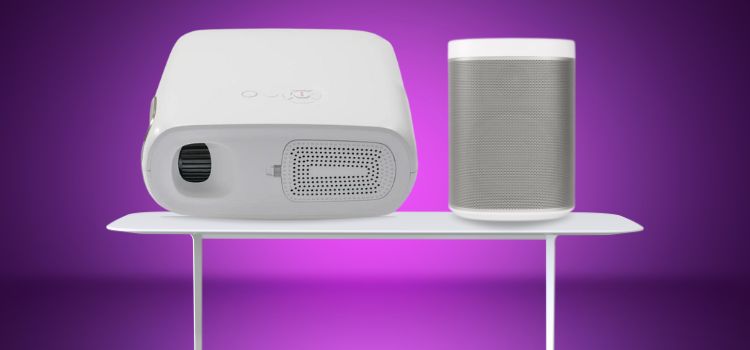 6. Keystone Adjustment:
Yaber Pro V7 review took the keystone adjustment to another level. Most of the projectors like Xgimi Horizon Pro provide a 3D keystone adjustment but Yaber Pro V7 provides an astronomical 6D keystone automatic adjustment which helps to correct the image angles automatically when the projector is turned on and does not requires the person to move the projector to adjust it by moving the projector.
7. Netflix Compatibility:
Due to some copywrite issues Yaber Pro V7 cannot use the Netflix or Amazon prime applications directly through its Wi-fi connection. For using these applications you must connect your projector to phone or a Tv stick. It is the only way you can get access to these applications.
Pros And Cons:
During the Yaber Pro V7 review pros and cons observed are mentioned below:
Pros
High Brightness (9,500 Lumens)
4K UHD Supported
6D Keystone Adjustment
Extremely Cheap
Cons
Sound Is Not Loud
Netflix Not Comaptible
Conclusion:
Today, we provided a complete Yaber Pro V7 review with its specifications in detail. So we must say that it is the best budget projector available in the market right now. If you are looking for a cheap projector for your home theatre it might be the best option as it comes with loads of features. I hope this Yaber Pro V7 review provides you a complete information about this projector. Good Luck!!!