LG HU70LA review presents you a game changing projector that will surely replace your LCDs in a long run. This projector is developed by LG and it tends to alter your perspective for home projectors. With its sleek white case and discrete vents on both sides it gives a very neat and smart look. With its 3.2 kg weight it becomes one of the very few easily mountable projectors in the global market.
Now coming towards the most interesting part, this model of Cinebeam projector is based upon the famous WebOS smart tv style. You may have heard about smart phones but this is surely the generation for smart projectors. And this is not smart only in words but it is smart in the true sense. Let's know more about this projector in the later LG HU70LA review.
LG HU70LA Review; Basic Information
LG HU70LA also known as smart projector is certainly a television in a projector. This is a treat for those who love to set up home theatres. When you pay for setting up such a luxurious setting at home, then you surely want to have the best out of it. It is the best projector in price less than 1800 dollars. Besides, it gives a 140 image of ultra HD quality in extended color range. It becomes a complete package when one realizes that it contains in built speakers as well. Moreover, it can be used for live streaming as and when required. Mentioned below are some of the specifications observed during LG HU70LA review :
LG HU70LA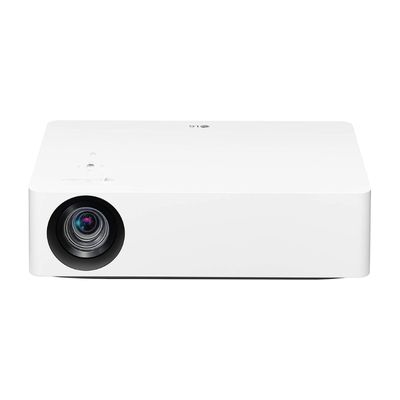 Specifications
Brand: LG
Model: HU70LA
Resolution: 3840x2160p
Brightness: 1,500 Lumens
Screen Size: 60′-140′
Technology: DLP
Why Choose LG HU70LA?
Numerous reasons for buying this model of LG projectors are already mentioned above. Let us now discuss in detail:
1. Incredible Image Quality:
This projector is certainly known for its most incredible image quality. Although there are numerous 4k projectors in the market but this is the best one. The image quality is never lowered no matter how much enlarged the image is projected. This specific model can surely be considered as one of the few 4k projectors along with Xgimi Horizon Pro that are available in price lower than 2000 dollars.
LG HU70LA review shows that it has the best color to contrast ratio, HDR tone mapping, fluent movement of the image. But it is not possible to develop an electronic device which is free of draw backs. If we talk about LG HU70LA, the drawback lies in the number of lumens which is 1500. This is few as compared to other projectors. If we use this projector in home than it is fine. But if the projector is used outdoors and in the presence of ambient light, then the image quality is disturbed. If you are looking for a very bright projector, then you have other suitable choices as well.
2. Smart Settings:
Now coming towards the smartness of this projector, we will discuss that what are the functions that make this projector a very smart electronic device. LG HU70LA review is based on the webOS which allows it to download streaming applications directly into the projector. It consists upon both smart tv as well as ThinQ AI.
These smart specifications also allows it to be operated by the voice commands. Voice command means that it responds to what you are saying like Alexa. For this purpose it can also use the voice command service of Google. In addition to this it contains Bluetooth due to which it can connect with other devices as and when required. This Bluetooth feature widens the functionality of the device.
3. Setting Up & Installing The Device:
As mentioned earlier in this LG HU70LA review, the setting up this projector is very easy. You generally need a nine to twelve inches space between the projector and the screen. This is the ambient distance. But this distance might be seen as a problem for the devices that are operated in smaller rooms. It can be mounted on the ceiling and placed even on the coffee table as well. Therefor, we can take this projector and set it easiy.
4. Sound Quality:
Sound quality is highly adequate in this projector. This is specifically owing to the built inside the projector. Therefore we can experience a very reasonable sound quality in this specific model of projector.
5. Gaming:
Now people buy projectors for a few purposes like using in offices and conferences, home theatres and for gaming. Although it is highly recommended for home theatrical set up but it is not good for the purpose of gaming. For sake of gaming you can look out for any specific gaming projectors.
Pros and Cons of the device:
Some of the pros and cons observed during LG HU70LA review are mentioned below:
Pros
Sleek Design
Cheap 4K
Good Image Quality
Great Motion Handling
Cons
High Fan Noise
Average Speaker Sound
Conclusion:
According to the LG HU70LA review we can conclude that if you are looking for a projector in order to set your home theatre then you are looking towards the best available product in the market. But if you are a professional gamer then this device might not work for you. But surely it has numerous other features that makes his device worth buying. We can say that LG HU70LA review is very suitable device for home theatres.