Due to an increasing interest in work from home the interest towards pocket sized or Nano projectors is significantly increased. Having a home cinema these days is quite fun but these projector can be expensive and not that much of value to money as compared to Tv but what they bring to your home is distinctive. But portable projectors are easily carried to any place and provide functions similar to a large full sized projector. So, today were are here to discuss another powerful portable projector.
Anker Nebula Apollo review describes all the pros and cons of this stylish small projector. Anker Nebula Apollo has latest design which a lot of features packed in a small body. Further details are explained in Anker Nebula Apollo review below.
Anker Nebula Apollo Review: Complete Overview
Anker Nebula Apollo is one of the smallest projector in the Anker lineup. It comes with a reasonable brightness on about 200 ANSI lumens which is approximately similar to Anker Nebula Capsule and Kodak Luma 350, Latter being the best palm sized projector in the market. Moreover, it comes with a number of different ports which allows to connect external devices such as HDMI and USB for media streaming.
It also has Bluetooth connectivity to connect it to external speakers as well as mobile phone. In addition to this Anker Nebula Apollo has a reasonable battery life which helps to operate it when you're away from an electricity outlet. It has built-in speakers which are loud enough for a single room. Some of the highlighting features are explained below in Anker Nebula Apollo review.
Anker Nebula Apollo
Specifications
Brand: Anker
Model: Nebula Apollo
Resolution: 854 x 480p
Brightness: 200 Lumens
Zoom: Automatic
Why Choose Anker Nebula Apollo?
Anker Nebula Apollo is an ultra handy projector which can be carried anywhere in a backpack. Moreover, it is a battery powered projector which makes it easy to operate in outdoors and can become a camping partner of yours. Its main highlighting features are:
1. Image Quality:
Anker Nebula Apollo comes with an LED bulb which give 200 ANSI lumens brightness similar to Anker Nebula Capsule. It has a resolution of 854 x 480p. Some projectors in this category might also show 1080p resolution but there is not a major visible difference. The image quality is relatively good and colors are sharp. The brightness is good enough for a closed room but it may look dull in a bright environment. For better image quality it as an auto keystone adjustment in it. Moreover, the focus is not automatic the projector has a knob on its side to adjust the focus manually.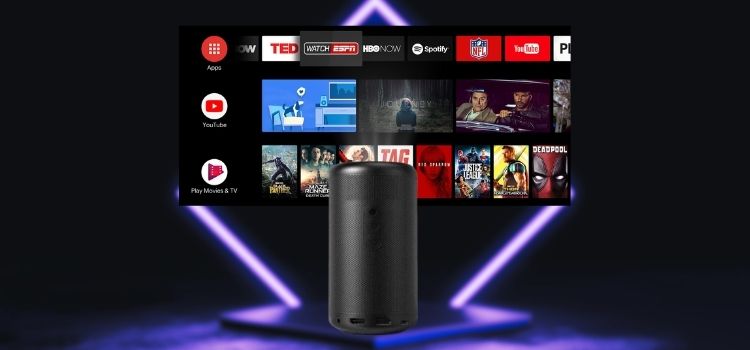 2. Connectivity:
The Anker Nebula Apollo comes with a software version Android 7.1 which has a great user experience. This software version can support the downloading of the latest version of applications from the Google Play Store. Moreover, it can be used a multiple device due to its Bluetooth connectivity. It can be connected to any phone or device via Bluetooth and can either work as a projector or can also be used as a Bluetooth speaker.
On the back of the projector there is a USB and HDMI port which allows it to connect to any gaming device or laptop. But if you want to connect the projector to an external speaker for better sound then you only have one option to connect it wirelessly by Bluetooth speaker because it lacks 3.5mm audio jack which is used for wired connectivity.
3. Sound:
In Anker Nebula Apollo the sound quality is amazing and sharp. The sound is enough to be used in a single large room. Moreover, it has Bluetooth connectivity for connection to external speakers. There is no 3.5 mm jack so it allows only wireless connectivity. The sound is sharp but moderately loud. It is enough to be used as a home theatre.
4. Additional features:
Anker Nebula Apollo has a number of features which define its price tag. These features are not resent in any other projector. For example every projector has a remote to operate it but Anker Nebula Apollo has an additional touch pad to be used as a mouse pad if the remote does not works. This feature enables the projector to navigate in apps easily as compared to other projectors.
Another feature of Anker Nebula Apollo is that it has buttons which are touch sensitive unlike normal projectors with clickable buttons. In addition to this, another way to control the functionality of this projector is to connect it to Nebula app which displays its all information and allows the user to control it through this application. Moreover it has a place where it can be attached to a tripod stand.
Pros And Cons of Anker Nebula Apollo:
Some pros and cons are discussed below in Anker Nebula Apollo review.
Pros
Touchpad Mouse Function
Bluetooth Connectivity
Android 7.1 Supported
Excellent battery
Cons
3.5mm Jack Not Available
Audio Distortion On High Sound
Conclusion:
There are lots of projector in the market but buying a budget projector according to your requirements is never easy. There are numerous options for buying budget projector. So, today we are here with an extensive review of Anker Nebula Apollo review. It is a budget projector which provides an excellent battery timing and is portable enough to be carried in a backpack. Anker Nebula Apollo comes with all latest and necessary features. Moreover, there are some cons about this projector which include a moderate sound and average screen resolution and a lack of 3.5mm jack.
FAQ's:
Is Anker Nebula Apollo worth buying?
Yes! it is a compact budget friendly projector which comes with almost all latest functions required in a projector. It also has some special features like touchpad mouse function. It can also be converted in a Bluetooth speaker if required. So, it is a projector which everyone should try out.
What are the differences in Anker Nebula Apollo and Capsule?
Most of their specs are same but there is a difference in the shape and built quality of the projector. Anker Nebula Apollo is slightly better in build quality. Moreover, it runs android 7.1 software while capsule has Tv OS but they work pretty much similar.
How to check updates on Nebula Apollo?
First of all, you have to go to the settings, then In menu there is an option of upgrade click on it, inside the upgrade menu there is an option to check latest software updates.